Ghana has not done enough to celebrate me – Asamoah Gyan laments
Former captain of the Black Stars, Asamoah Gyan is bruised by what he describes as the hypocritical attitude of Ghanaians who he says have done little to celebrate his achievements in football.
The basis of his opinion is the fact that social media platforms are always inundated with insults of his personality alongside the claim that his countrymen do not trumpet his records until foreigners attempt to 'steal' the spot for an international footballer.
The 36-year-old indicated in his interview with Dentaa that his weighty accomplishments as a footballer should be on the lips of Ghanaians while emphasizing he is an icon.
Without hesitation, he responded "Nope, I don't think so" to whether or not he thinks Ghana has celebrated him enough years after playing for national teams.
"There are a lot of people who come on social media to disrespect me. They say a lot of things but they know the truth. One thing about Ghanaians is they know the right thing, instead of them putting it out there, they will not do it. But when foreigners praise theirs, that is where they [Ghanaians] bring their star to compare," Gyan said.
Citing an example to buttress his point, Gyan mentioned that he was the first player to have scored in nine consecutive tournaments but that enviable record was never blazoned by Ghanaians until Cristiano Ronaldo did same in June 2021. Gyan's bane was why it had to take an attempt by foreigners to crown Cristiano Ronaldo as a record-holder in that regard before Ghanaians acknowledged him.
"When Ronaldo scored, they [foreigners] put him there that he was the one who has set that record and then Ghanaians started attacking. They know the truth. Why didn't they say it for people to know? When people start praising their icons, that is when they [Ghanaians] come out and say 'we also have Asamoah Gyan'.
"In my own country, you see people disrespecting me, creating a lot of stories about me which I feel like it's not it. So, when I see people defending me on social media, I just say 'look at these hypocrites'" Gyan concluded.
Asamoah Gyan is the all-time leading goal scorer of the Ghana national team, with 51 goals. He is also the top African goal scorer in the history of the World Cup, with 6 goals.
Meanwhile, Asamoah Gyan has said he is training in preparation for a possible World Cup 2022 appearance. The announcement has courted conversation, dividing opinions. Why some posit that he is better than all the strikers Ghana has and hence, should be handed a call-up, others say he has become rusty, hence, unfit to wear the national jersey.
What happened to Travis Rudolph? Ex-NFL WR faces murder trial over death of Sebastien Jean-Jacques
Former NFL wide receiver Travis Rudolph faces murder trial in a shooting incident from April 2021.
He is charged with one count of first-degree murder over the death of Sebastien Jean-Jacques. The former Florida State star also faces three counts of attempted first-degree murder.
Both sides presented their arguments on the first day of the trial. The prosecution insisted that Rudolph was the aggressor, while the defense maintained that he was the victim.
Last year, Rudolph asked Judge Jeffrey Gillen to dismiss the case on the ground of Florida's "Stand Your Ground" law. Gillen denied the request. Now, the jury will decide if Rudolph instigated Jean-Jacques' death or shot him in self-defense.
Updates on the Travis Rudolph murder trial
The Palm Beach Post reports that Dominique Jones, Travis Rudolph's ex-girlfriend, took the witness stand on Day 1 of the trial. She recalled an argument on that fateful night after discovering her partner's infidelity.
She said her emotions got the better of her, and she texted her brother, Keishaun Jones, saying, "Please go shoot his s*** up." Jones admitted that it was a horrible choice of words.
Meanwhile, Keishaun Jones testified that he and three other men arrived at Rudolph's residence to demand an apology, not to assault. He also clarified that Jean-Jacques did not point a firearm toward the defendant.
However, Tyler Robinson, one of the three men with Jean-Jacques, admitted that he had a gun in his pocket. He brought the firearm because he was upset that Rudolph physically assaulted Jones.
One of Rudolph's neighbors, Ruben Estes, said that Dominique Jones slapped her then-boyfriend after learning about his cheating. He also said that a confrontation took place between Rudolph and Jones' brother's entourage.
But while he didn't see the men exposing weapons, Estes managed to retrieve his firearm before hearing shots fired by Travis Rudolph. After the shooting, he saw Rudolph walking back to his home with a rifle in hand.
The incident happened in the residence of Rudolph's mother, and it was revealed that she convinced the visitors to watch the recorded door camera footage of Jones hitting her son.
Rudolph was arrested following that incident on April 7, 2021. He allegedly fired 39 rounds of an AR-15 pistol, killing Jean-Jacques and wounding others.
In April 2022, his attorney successfully negotiated his release from jail on a $160,000 cash bond. The presiding judge ordered that Rudolph would remain on house arrest.
Travis Rudolph's football career
The Florida native went undrafted in 2017 despite being a Second-Team All-ACC member the year before. But the New York Giants took a chance by signing him as an undrafted free agent.
He made it to the active roster after injuries to several starters at wide receiver. However, he didn't do much and was waived before the 2018 season.
The Miami Dolphins signed him to their practice squad. Unfortunately, an ACL tear relegated him to the practice squad/injured list. He ended his NFL career with eight catches for 101 yards.
Travis Rudolph tried his luck in the Canadian Football League by signing with the Winnipeg Blue Bombers on January 2020. The team released him on April 2021.
UFC Star 'catches wife in bed with mate on Wedding Night'
UFC fighter Tim Elliott claims his ex-wife cheated on him with his friend on their WEDDING NIGHT and during their 'entire marriage'.
UFC flyweight fighter Tim Elliott has accused his ex-wife Gina Mazany of cheating on him with his friend and teammate Kevin Croom throughout their marriage – including on their wedding night, it's been reported by The New York Post.
The report found Elliott took to Twitter to make his accusations – posting a picture of Mazany reading wedding vows to his daughter Sterling (who he had through a past marriage) while Croom holds a microphone for her.
'You want to see something gross? This is my "wife" reading vows to my daughter on our "wedding" night,' Elliott wrote.
'The guy holding the microphone was my "friend/teammate" my wife cheated on me with this guy the same night! and they have had a relationship our entire "marriage."'
The Post reports Elliott also says that he is no longer married to Mazany. He also says Mazany and Croom are currently together. Dailymail.com has reached out to their representatives for comment.
UFC flyweight fighter Tim Elliott is reportedly accusing his ex-wife of infidelity in a Twitter post
  Gina Mazany
Kevin Croom
Elliott made this post, calling out Mazany's infidelity with his friend Croom (holding mic)
Elliott says he found out about the alleged infidelity through text messages sent by Mazany to a friend, according to the report.He also says Mazany later confessed to him.He also says that the wedding night cheating happened as he went back home to put his daughter to sleep. Mazany didn't go back with him afterwards due to 'friends there from out of state'.
Elliott poses for a portrait with now ex-wife Mazany after his UFC victory back in July 2020
Mazany has deleted her Instagram account but pictures of the couple are still on Elliott's page
Elliott and Mazany at the annual Fighters Only World MMA Awards in Las Vegas in July 2019
Mazany has deleted her Instagram account recently. However, there are a number of posts of the former couple still up on Elliott's page.
Both Mazany and Croom were cut by the UFC last April following losses – but they have since pursued other promotions.
Elliott has not fought in the UFC since his appearance in UFC 272 where he defeated Tagir Ulanbekov by unanimous decision.
He's next scheduled to face Victor Altamirano on June 3.
Former NFL player Chris Smith dies at 31
Former NFL star Chris Smith has died, his agent announced on Twitter. He was 31.
Smith, who was a former defensive lineman for the Cleveland Browns, spent eight years in the NFL and played for multiple teams including the Jacksonville Jaguars, the Cincinnati Bengals and the Las Vegas Raiders.
His cause of death was not immediately known.
On social media, tributes poured in for the former player.
"Chris was one of the kindest people, team-mates and friends we've had in our organisation," the Browns team wrote on Twitter.
Smith began his NFL career in 2014 when he was drafted by the Jacksonville Jaguars as a defensive lineman. But his personal life was marred by tragedy. In 2019, his girlfriend Petara Cordero was killed in a car accident just weeks after giving birth to their child.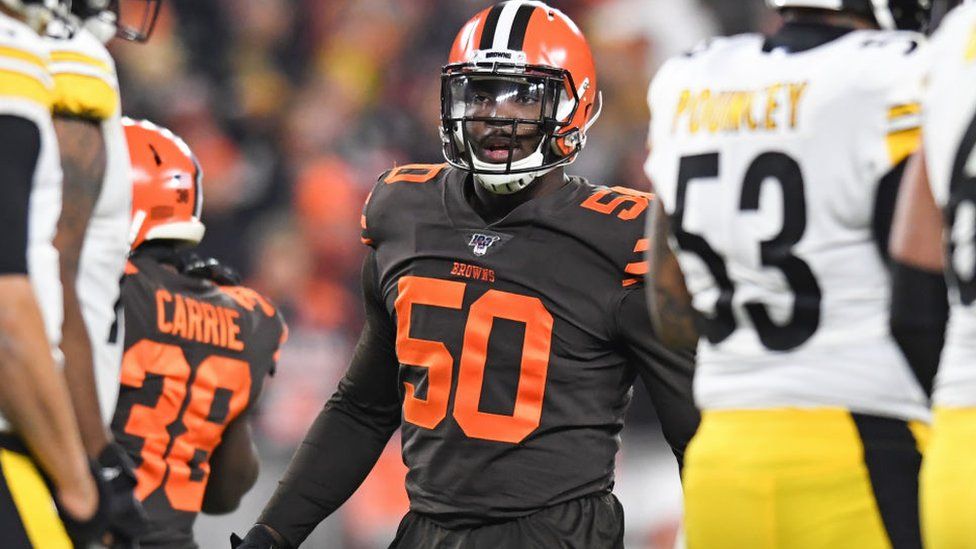 IMAGE SOURCE,

GETTY IMAGES
Image caption, Chris Smith played for multiple teams in the NFL including the Cleveland Browns
Tony Khan, son of Jacksonville Jaguars owner Shahid Khan, described Smith as a "great team-mate and friend".
"He suffered a tragic loss," he wrote on Twitter. "I hope they are reunited in Heaven."
Smith spent three seasons with the Jaguars before going on to play for the Cincinnati Bengals and the Cleveland Browns. But before he joined the NFL, he was a hometown hero and star of his North Carolina high school football team, according to a local newspaper.
"He had been the ultimate give-back guy and had been a generous donor to local schools and projects," the Salisbury Post wrote in an obituary.