Is Kayce Going To Die In Yellowstone Season 5?
Yellowstone has foreshadowed the death of a major character. Here's why every clue seems to point to the impending death of Kayce Dutton.
Some events in Yellowstone season 5 seem to suggest that Kayce Dutton's death is on the horizon. Notably, Kayce's visions in the Yellowstone season 4 ending not only revealed Kayce's two different paths, but also foreshadowed betrayal, comeuppance, and death. Kayce's impending death may even be the reason why, before Kayce and Tate left for the cattle run, Monica cried as if she was saying goodbye to them for the last time. Though Yellowstone season 5 already opened with the death of baby John Dutton, certain clues imply that Kayce will be the next Dutton to go.
For instance, while the accidental killing of wolves from Yellowstone National Park – by ranch hands Ryan and Colby – doesn't seem related to Kayce, it's noteworthy that the wolf has been revealed to be Kayce's protector and spirit animal. Another clue comes in the preview for Yellowstone season 5, episode 6, which shows an EMT helicopter appear after the majority of the cast rode off for the cattle run. The preview also shows John Dutton comforting Tate, Monica and Summer visiting the Dutton gravesite, and the core ranch cast – bar Kayce – reacting to something suggested to be harrowing. These clues point to the death of Kayce Dutton in Yellowstone season 5.
What Kayce's Death Would Mean For Yellowstone Season 5
The fate of the Yellowstone Dutton Ranch will become even more uncertain if Kayce dies – but it would be a bold move that could give the show a much-needed shakeup. In many ways, Kayce is the heart and soul of Yellowstone – serving as the living bridge between the Dutton ranch and the tribes of Broken Rock. Though Kayce already chose Monica and Tate over the Dutton Ranch, everyone in his life persuaded him to retain his position as livestock commissioner, and as John revealed to Clara, he still considers Kayce to be his only son. If Kayce dies, the world around him could explode into chaos.
Just like Kayce and Monica's son baby John Dutton, Kayce would be buried on the Dutton ranch and as a full member of the Confederated Tribes of Broken Rock. On one hand, it would be the single, most tragic death in the history of Yellowstone. On the other hand, if Kayce dies, it could be the catalyst for Governor John Dutton to finally find some common ground with Broken Rock Chief Thomas Rainwater – or for the conflict between the two to escalate, since Kayce wouldn't be around to keep the peace. In any case, it might just be exactly what Yellowstone needs to push its overarching plot in a worthwhile direction.
Who Dies In Yellowstone Season 5?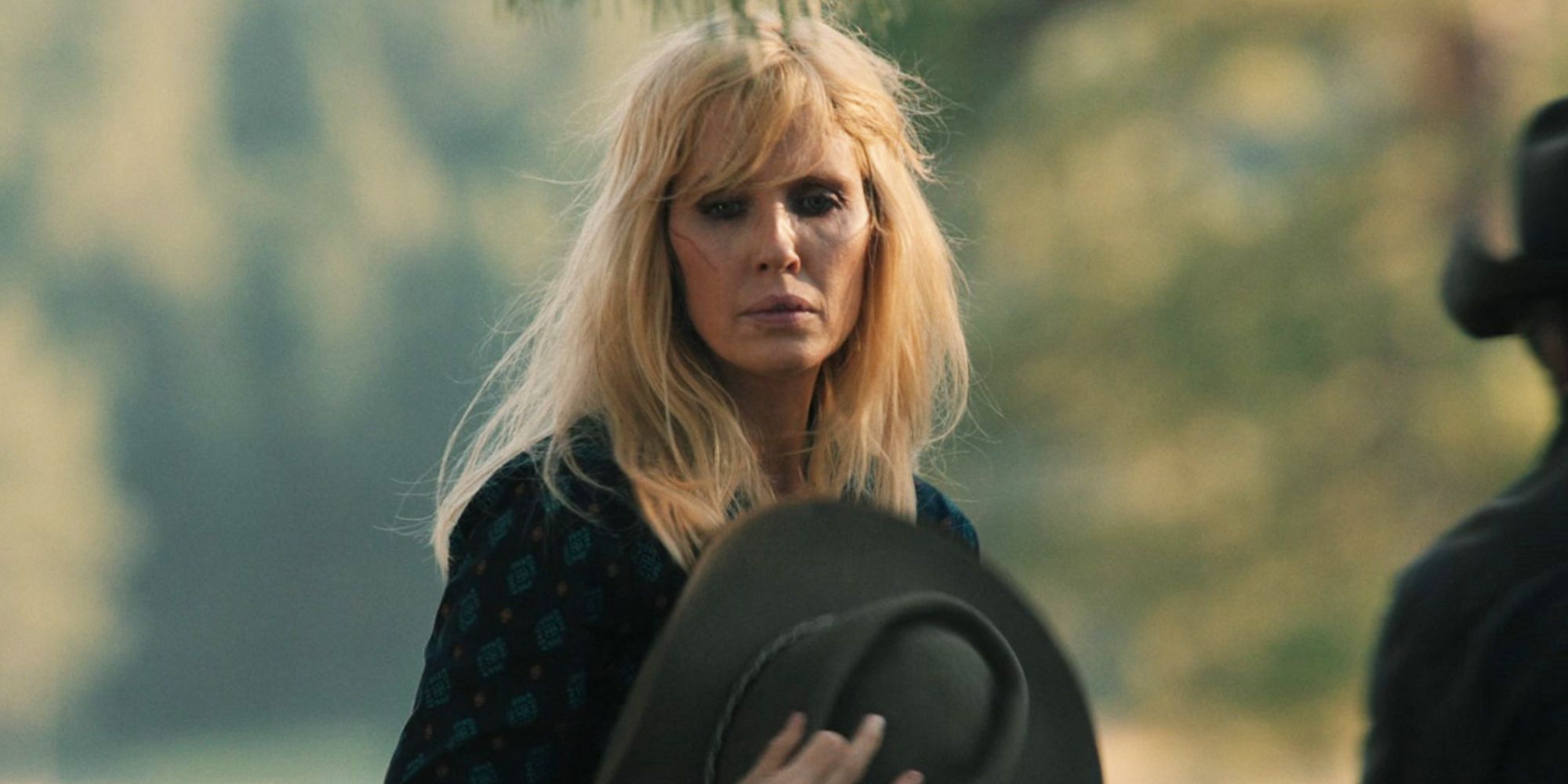 Yellowstone implying that Kayce might die could also just be a red herring – to hide the fact that it's actually Lloyd that Yellowstone viewers should be worried about. Though it certainly won't have as much of an impact as the death of Kayce Dutton, Lloyd's death would also carry some heavy weight. The possible death of long-time Yellowstone Dutton Ranch hand Lloyd Pierce would similarly foreshadow a dark fate for the ranch, on which Lloyd is the oldest working branded cowboy.
Lloyd's impending death could be why the Yellowstone season 5 flashbacks feature young Lloyd, who is played by Forrest Smith, the real-life son of Forrie J. Smith who plays Lloyd Pierce. Juxtaposed with these scenes, Lloyd's death could be a poignant tribute to the life of the Montana cowboy, and would be well-placed in season 5's community cattle run. In any case, whether it's Kayce, Lloyd, or another beloved member of the cast, death is coming for someone in Yellowstone season 5.
Tina Turner's Cause of Death Revealed
More details on Tina Turner's passing have come to light.
One day after the legendary performer died at the age of 83, her cause of death has been attributed to natural causes, her representatives confirmed to DailyMail.com. Her publicist also told NBC News her death came after a long illness.
E! News has reached out to her manager for comment but hasn't heard back.
On May 24, her team shared that she passed away at her home in Switzerland.
"With her music and her boundless passion for life, she enchanted millions of fans around the world and inspired the stars of tomorrow," a statement posted to her social media pages read. "Today we say goodbye to a dear friend who leaves us all her greatest work: her music. All our heartfelt compassion goes out to her family. Tina, we will miss you dearly."
During the latter years of her life, the "Proud Mary" artist opened up about battling several health issues, including high blood pressure, vertigo, a stroke, intestinal cancer and kidney failure.
In her 2021 documentary, Tina, the singer also shared she experienced post-traumatic stress disorder as a result from her tumultuous marriage to her ex Ike Turner.
"I've been on such a wild roller-coaster in the four years since my wedding," Turner—who wed music executive Erwin Bach in 2013—wrote in her memoir, My Love Story, per Today, "that even I have difficulty keeping my medical catastrophes straight."
Turner's passing came just five months after the death of her and Ike's son Ronnie and nearly five years after her son Craig passed away.
Her death sent shockwaves through Hollywood, with many celebrities speak out about the influence her achievements had on the industry.
"Through her courage in telling her story, her commitment to stay the course in her life, no matter the sacrifice, and her determination to carve out a space in rock and roll for herself and for others who look like her," Angela Bassett, who played the legend in the 1993 biopic What's Love Got to Do With It, said in a statement. "Tina Turner showed others who lived in fear what a beautiful future filled with love, compassion, and freedom should look like."
As the actress—who won a Golden Globe for her role—noted, it was an honor knowing the icon on a personal level.
"Her final words to me, for me, were 'You never mimicked me. Instead, you reached deep into your soul, found your inner Tina, and showed her to the world,'" she added. "I shall hold these words close to my heart for the rest of my days."
[via]
Tina Turner survived an abusive relationship with Ike and death of two sons
Tina Turner escaped an abusive relationship to find true love with her second husband, Erwin Bach.
The singer, who passed away aged 83 on Wednesday following an unspecified illness, was in a relationship with the record executive for 38 years. The pair married in 2013.
Tina had publicly praised Erwin for helping her find happiness after fleeing from her first marriage to husband, Ike Turner, which was plagued with physical and emotional abuse.
Ike first met Tina when she was a vulnerable teenager named Annie Mae Bullock. He renamed her Tina, and went on to form the musical duo, Ike & Tina Turner. According to Tina, he micromanaged her career, withheld her finances and beat her while she was pregnant.
After filing for divorce in 1978, Tina was left in debt and had her children to support. She went on to establish a successful solo career.
The songstress met Erwin in 1985 when he was working as an executive with EMI. The pair had an instant connection the moment they met, when he arrived to collect her from Düsseldorf airport.
She said Erwin had taught her how "to love without giving up who I am", and that he had never been intimidated by her fame or success. He even donated a kidney to her in April 2017, which saved her life.
Writing in her book, Happiness Becomes You: A Guide to Changing Your Life for Good, Tina said: "Falling in love with my husband, Erwin, was another exercise in leaving my comfort zone, of being open to the unexpected gifts that life has to offer.
"The day I first met Erwin, at an airport in Germany, I should have been too tired from my flight, too preoccupied with thoughts of my concert tour. But I did notice him, and I instantly felt an emotional connection.
"Even then, I could have ignored what I felt — I could have listened to the ghost voices in my head telling me that I didn't look good that day, or that I shouldn't be thinking about romance because it never ends well. Instead, I listened to my heart."
Tina's spokesman confirmed she died "peacefully" at home and added: "With her, the world loses a music legend and a role model. With her music and her inexhaustible vitality, Tina Turner thrilled millions of fans and inspired many artists of subsequent generations."
Tina Turner: legendary rock'n'roll singer dies aged 83
Tina Turner, the pioneering rock'n'roll star who became a pop behemoth in the 1980s, has died aged age of 83 after a long illness, her publicist has told the PA news agency.
Turner affirmed and amplified Black women's formative stake in rock'n'roll, defining that era of music to the extent that Mick Jagger admitted to taking inspiration from her high-kicking, energetic live performances for his stage persona. After two decades of working with her abusive husband, Ike Turner, she struck out alone and – after a few false starts – became one of the defining pop icons of the 1980s with the album Private Dancer. Her life was chronicled in three memoirs, a biopic, a jukebox musical, and in 2021, the acclaimed documentary film, Tina.
"Turner's musical character has always been a charged combination of mystery as well as light, melancholy mixed with a ferocious vitality that often flirted with danger," scholar Daphne A Brooks wrote for the Guardian in 2018.
Turner was born Anna Mae Bullock on 26 November 1939 and raised in Nutbush, Tennessee, where she recalled picking cotton with her family as a child. She sang in the tiny town's church choir, and as a teenager talked – or rather, sang – her way into Ike's band in St Louis: he had declined her request to join until he heard her seize the microphone during a Kings of Rhythm performance for a rendition of BB King's You Know I Love You.
She had suffered ill health in recent years, being diagnosed with intestinal cancer in 2016 and having a kidney transplant in 2017.
… as 2023 gathers pace, and you're joining us from Ghana, we have a small favour to ask. A new year means new opportunities, and we're hoping this year gives rise to some much-needed stability and progress. Whatever happens, the Guardian will be there, providing clarity and fearless, independent reporting from around the world, 24/7.
Times are tough, and we know not everyone is in a position to pay for news. But as we're reader-funded, we rely on the ongoing generosity of those who can afford it. This vital support means millions can continue to read reliable reporting on the events shaping our world. Will you invest in the Guardian this year?
Unlike many others, we have no billionaire owner, meaning we can fearlessly chase the truth and report it with integrity. 2023 will be no different; we will work with trademark determination and passion to bring you journalism that's always free from commercial or political interference. No one edits our editor or diverts our attention from what's most important.
With your support, we'll continue to keep Guardian journalism open and free for everyone to read. When access to information is made equal, greater numbers of people can understand global events and their impact on people and communities. Together, we can demand better from the powerful and fight for democracy.