Johnny Depp Has Revealed That The Main Motive For The Trial Was For The Sake Of His Two Precious Kids
Johnny Depp was the talk of the world during his defamation trial against ex-wife Amber Heard from April to May of 2022.
And while he did emerge victorious and arrive at a lucrative pay-out, he has revealed that the main motive for the trial was for the sake of his two kids.
The actor shares his two children, Lily Rose-Depp, 23, and Jack Depp, 20, with ex-wife Vanessa Paradis, and they both choose to keep to themselves on the issue.
However, Lily has in the past spoken in support of her father, sharing a since-deleted Instagram post back in 2016 as news of abuse allegations first broke.
"My dad is the sweetest, most loving person I know, he's been nothing but a wonderful father to my little brother and I, and everyone who knows him would say the same," she wrote alongside a throwback photo of herself and her father.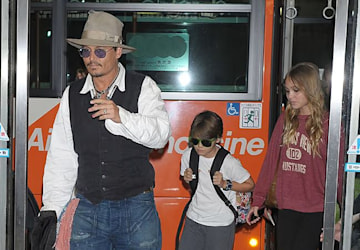 Johnny has maintained a strong relationship with his two kids
While Jack has remained quiet on the issue, also having been quite young when the case first arose, Johnny has frequently gushed about his son's talents and how much he adores being his father.
"My boy Jack, has always been a very talented draftsman," he told the Inquirer in 2014. "He draws really super well. He also plays music very well. He's got a good feel for that. Aside from school plays and things, he hasn't shown any desire to become an actor. Whew."
In 2018, Johnny spoke of his son: "I'm sure it wasn't easy for my 14-year-old boy to go to school, you know what I mean?"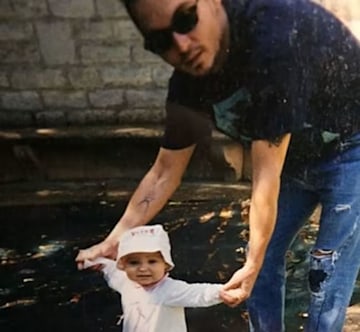 Lily-Rose came to her father's defense when abuse allegations were first made
"With people going, 'Hey, look at this magazine, man. What, your dad beats up chicks or something?' Why did he have to go through that? Why did my daughter have to go through that?"
The Hollywood star commented at the start of the trial that his express purpose for the trial was clearing the air for the sake of his kids.
He stated: "The news of her accusations had sort of permeated the industry and then made its way through media and social media became quite a global, let's say, 'fact,' if you will.
"Since I knew that there was no truth to it whatsoever, I felt it my responsibility to stand up, not only for myself in that instance, but stand up for my children. I wanted to clear my children of this horrid thing they were having to read about their father, which was untrue."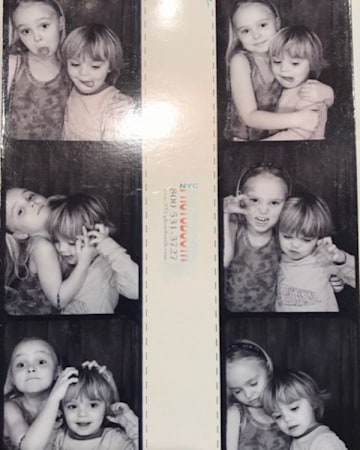 The two siblings maintain a tight bond
Lily-Rose and Jack have maintained a close relationship as siblings, with the former even sharing tributes to her brother on his birthday.
Keira Knightley Ponders a Swashbuckling Comeback in the Next Pirates of the Caribbean Installment
In a recent interview with Collider,Knightley was asked about the possibility of reprising her role as Elizabeth Swann in the upcoming "Pirates of the Caribbean" films. She responded by saying that she has not yet been approached about the project, but would definitely consider it if the opportunity arises.
"I don't know if it's happening," Knightley said. "I haven't heard anything about it. But, you know, I would always be open to the idea of revisiting Elizabeth Swann. It was a huge part of my life and career, and I'm very fond of the character."
Knightley first appeared as Elizabeth Swann in the original "Pirates of the Caribbean: The Curse of the Black Pearl" in 2003. She continued to play the character in the following two sequels, "Dead Man's Chest" and "At World's End," before sitting out the fourth installment, "On Stranger Tides."
While Knightley's character was not present in "On Stranger Tides," the film still managed to gross over $1 billion worldwide. The most recent entry in the franchise, "Dead Men Tell No Tales," was released in 2017 and also went on to earn over $794 million globally.
It remains to be seen what the future holds for the "Pirates of the Caribbean" franchise, which has seen its fair share of ups and downs in recent years. Johnny Depp, who played the lead role of Captain Jack Sparrow, was dropped from the series following allegations of domestic abuse. The studio has since announced that it is planning to reboot the franchise with a new cast and crew.
Despite the uncertainty surrounding the future of the franchise, Knightley's potential return to the series would undoubtedly be a welcome sight for fans. Her portrayal of Elizabeth Swann was a key factor in the success of the early "Pirates of the Caribbean" films, and her absence from the later entries was felt by many.
Knightley has remained busy in the years since her last "Pirates" film, taking on a variety of roles in both independent and big-budget productions. She has been nominated for two Academy Awards for her performances in "Pride & Prejudice" and "The Imitation Game," and has also appeared in films such as "Atonement," "Anna Karenina," and "The Nutcracker and the Four Realms."
Whether or not Knightley ultimately returns to the "Pirates of the Caribbean" franchise, her fans can look forward to seeing her in a variety of upcoming projects. She is set to star in the upcoming biographical drama "Silent Night," as well as the action thriller "The Essex Serpent
Willow Smith Says She & Brother Jaden Felt "Shunned" By Black Community
Willow Smith has made a huge revelation.
The singer has revealed on 'Red Table Talk'that she and he brother Jaden felt "shunned" by the black community growing.
Her words below:
"With the African American community, I kind of felt like me and Jaden were shunned a little bit."
Willow then went on to describe her and her brother's unconventional presentations as a reason saying:
"We're not gonna take pride in them because they're too different. They're too weird."
Both she and Jaden began adopting more of an androgynous approach to their presentations in the early 2010s.
Their mom, Jada Pinkett Smith, then recalled the "firestorm" that occurred when Willow cut her hair.
Jaden Smith Turns Heads in New Louis Vuitton Commercial
Jaden Smith has long marched to the beat of his own drum.
And it's a trajectory that continues in his starring role in Louis Vuitton's latest commercial.
Smith rocks the LV Mansion line by Louis Vuitton, which reveals a gothic influence in the form of an ankle boot, and a loafer.
Check it all out after the jump…