Johnny Depp Will Smith and lead celebrity comebacks after being canceled
Will Smith and Johnny Depp are both making career comebacks after being canceled in the court of public opinion.
Smith is currently on a press tour promoting his upcoming film, "Emancipation," less than a year after slapping Chris Rock on stage during the Oscars. Depp has also been declared "vindicated" following his court win against ex-wife Amber Heard.
"Oh, I think he's completely vindicated," Depp's friend and frequent collaborator, Helena Bonham Carter, told The Times. "I think he's fine now. Totally fine."
Will Smith, left, and Johnny Depp have both moved on in their careers after battling a slew of negative headlines. (Getty Images)
Brand expert and senior vice president of Red Banyan, Kelcey Kintner, explained to Fox News Digital how some celebrities can overcome negative press after being canceled while others are never able to reclaim their careers.
"There isn't one quick fix when it comes to celebrities getting out of cancel culture purgatory. The public's perception of the person before the controversy, the seriousness of the offense and the celebrity's response to the firestorm all play a role. But usually, with enough time, a celebrity can slowly work their way back."
"Fans can be extremely forgiving when it comes to their favorite stars," she said. "For example, Will Smith may have a few fans that won't see his movies now, but his huge likability before the infamous Oscar slap will help get him through this. He also did a good job of publicly owning up to his bad behavior."
Kintner said that if celebrities don't own up to their wrongdoing right away, it can be harder for them to return to a successful career.
"When it comes to some kind of wrongdoing, it's always key for any celebrity to take responsibility as quickly as possible for their part. But sometimes stars think they are untouchable and refuse or simply can't face what they've done," Kintner said. "They can end up defiantly doubling down on inappropriate remarks and actions, and this only stokes the fire, making the pathway to a return even longer or sometimes nearly impossible."
"But celebrities have the advantage of huge financial resources and being able to push out their positive narrative to the public. So, in general, they are in a far stronger position for battling cancel culture than your average Joe."
Here are five celebrities who have mounted a career comeback after being canceled:
Johnny Depp
Johnny Depp lost out on movie roles after he was branded a "wife beater" by the media following an op-ed written by his ex-wife, Amber Heard. At the time, she labeled herself a victim of domestic violence. Even though she didn't name Depp specifically, Depp claimed his reputation took a hit following the publication of the op-ed.
Depp won his defamation trial against Heard in September. The case made headlines throughout the six-week court trial, and many nasty allegations were presented on both sides. But in the end, many felt Depp had been redeemed.
The "Pirates of the Caribbean" star has been outspoken about cancel culture while dealing with the legal drama.
"It's so far out of hand now that I can promise you that no one is safe, not one of you, no one out that door. No one is safe," Depp said while speaking to the press at the San Sebastian International Film Festival in 2021. "It takes one sentence, and there's no more ground, the carpet has been pulled. It's not just me that this has happened to, it's happened to a lot of people. This type of thing has happened to women, men. Sadly, at a certain point, they begin to think that it's normal, or that it's them when it's not."
Since the conclusion of the trial, Depp has appeared at the MTV VMAs and in Rihanna's most recent Savage X Fenty fashion show. He's also slated to direct his first film in the last three decades. He is directing and co-producing "Modi" alongside Al Pacino and Barry Navidi.
Will Smith
Will Smith received backlash after he slapped Chris Rock on-stage during the 2022 Oscars ceremony.
Rock had made a joke about Jada Pinkett Smith's bald head — the "Red Table Talk" host suffers from alopecia and has been outspoken about her diagnosis.
Following the slap, Smith was banned from attending the Oscars and any other Academy-sponsored events for the next 10 years. The actor laid low for a while before sharing a video in which he apologized to many, including Rock.
"Will Smith is an extraordinary talent who will continue to be sought after for years to come. But until he puts this behind him, don't expect most studios to rush to engage him," crisis and brand expert Evan Nierman told Fox News Digital at the time of the slap. "For the time being, he is damaged goods, but I suspect he will overcome the stigma over time, provided he takes the proper steps and avoids further bad decisions or other massive lapses of judgment and self-control."
Smith has seemingly begun his comeback. His first film since the Oscars moment will be released on Dec. 2. The actor has already been mentioned as a contender for another best actor Oscar. However, if nominated, he won't be able to attend the awards ceremony.
The "Aladdin" star also understands that some fans might not be ready to support him.
"I completely understand that, if someone is not ready, I would absolutely respect that and allow them their space to not be ready," Smith told FOX 5 DC reporter Kevin McCarthy. "My deepest concern is my team — [director Antoine Fuqua] has done what I think is the greatest work of his entire career."
He added, "I'm hoping that the material — the power of the film, the timeliness of the story — I'm hoping that the good that can be done would open people's hearts at a minimum to see and recognize and support the incredible artists in and around this film."
Mel Gibson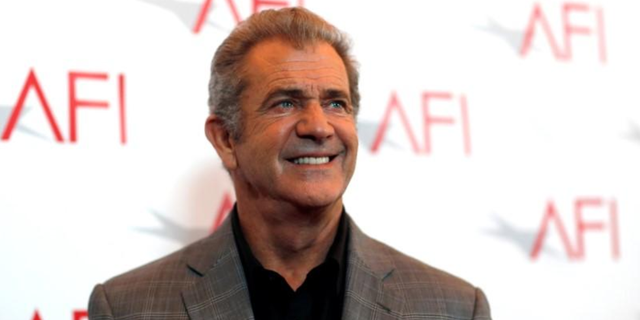 Mel Gibson largely stayed out of the limelight after he was arrested in 2006 for DUI. The actor went on an antisemitic rant during the arrest that made headlines. (Reuters)
Mel Gibson's fall from grace was spurred by an antisemitic rant he spouted when arrested for DUI in 2006.
After the arrest, Winona Ryder came forward and claimed that Gibson had once called her an "oven-dodger." The term is a reference to the Holocaust. The director denied Ryder's claim and called her a liar, according to multiple reports.
Gibson has also been accused of using homophobic and racist language. In 2010, tapes of Gibson yelling at his then-girlfriend leaked, further cementing his fate. In the tapes he used the n-word while speaking to Oksana Grigorieva.
Grigorieva later accused Gibson of domestic abuse.
Despite his cancellation and decade-long hiatus from Hollywood, Gibson is currently working on a number of new projects, including "Lethal Weapon 5."
Chrissy Teigen
Chrissy Teigen faced backlash after she was accused of bullying Courtney Stodden.
Stodden, who identifies as non-binary and uses they/them pronouns, accused the model of cyberbullying after Teigen announced she was leaving Twitter due to negativity in 2021.
At the time, Stodden claimed that Teigen had tweeted about how they should take a "dirt nap" and privately messaged them encouraging suicide.
Teigen shared an apology on Twitter.
"Not a lot of people are lucky enough to be held accountable for all their past bulls–t in front of the entire world," Teigen wrote at the time. "I'm mortified and sad at who I used to be. I was an insecure, attention seeking troll. I am ashamed and completely embarrassed at my behavior."
"But that is nothing compared to how I made Courtney feel," Teigen continued. "I have worked so hard to give you guys joy and be beloved and the feeling of letting you down is nearly unbearable, truly. These were not my only mistakes and surely won't be my last as hard as I try but god I will try!!"
Despite the backlash, Cravings by Chrissy Teigen cookware and cookbooks are still sold at retailers, including Walmart and Amazon.
Kevin Hart
Kevin Hart faced backlash after homophobic tweets resurfaced ahead of his 2019 Oscars hosting gig. The comedian stepped down from hosting that year and refused to apologize publicly, saying at the time that he'd already addressed the old tweets.
"[They] basically said, 'Kevin, apologize for your tweets of old, or we're going to have to move on to find another host,'" Hart previously said in an Instagram video. "I chose to pass, I passed on the apology. The reason why I've passed is that I've addressed it several times."
Since the backlash, Hart debuted a new comedy show "No F–ks Given" and starred in a number of projects, including "Fatherhood" and a recent film with Dwayne "The Rock" Johnson — "DC League of Super-Pets."
'Wednesday' star Catherine Zeta-Jones is all praise for Netflix series and 'marvellous' co-star Jenna Ortega
On Wednesday, January 25, Catherine Zeta Jones, who plays Morticia Addams, spoke to Ross King in a chat show on Lorraine about the Wednesday series being renewed for a second season.
According to Daily Mail, the actress was alongside her husband Michael Douglas at a Burns night celebration.
She told the reporter, "When Tim Burton asked me to do it, I was like 'whatever you want me to do Tim!' and then the idea of me playing Morticia, who's such an iconic, wonderful, juicy character was wonderful."
Speaking about the show, she said, "It turned out so much better than I think anybody anticipated."
Catherine also praised her co-star, "Jenny Ortega is just marvellous as Wednesday and through the eyes of Tim Burton it's a lot of fun."
The 53-year-old Hollywood star continued, "I'm really happy to be part of it I must say."
Catherine's screen icon husband Michael, 78, was certainly a fan of his wife's work as he chimed in, "She killed Morticia, she really killed it!"
Nia Long Says 'Fresh Prince' Costar Will Smith 'Carried a Burden for Many Years to Represent' Perfection
Nia Long is proud of how far Will Smithhas come.
In speaking of her former Fresh Prince of Bel-Air costar, Long, 52, applauded Smith, 54, for how he's handled himself in the spotlight.
"I will always love him. He's had an incredible career, and he's carried a burden for many years to try — to represent what perfection looks like," Long, who played Smith's character's girlfriend and fiancée Beulah "Lisa" Wilkes on the series, said in an interview with Yahoo's Kevin Polowy. "Or what achievement looks like."
Nia Long had some thoughtful things to say about her #FreshPrince costar/friend Will Smith: "He's carried a burden for many years to represent what perfection looks like."

She also got emotional when that scrutiny reminded her of what she's been through with her recent breakup. pic.twitter.com/fYS1vLj7gz

— Kevin Polowy (@djkevlar) January 20, 2023
Long also reflected on her generation's idea of "celebrity" — and how Smith fit into that box. "I don't think that — at least when we were growing up — there was room to be human. I think he's now able to be human," she added.
Last year, Smith went viral after slappingChris Rock on stage at the Oscars. The unscripted moment came after Rock, 57, mocked Smith's wife Jada Pinkett Smith's shaved hairstyle, which was done to her alopecia.
Smith, in turn, faced a great deal of backlash before he eventually apologized for his behavior.
Though Long did not directly mention Smith's outburst, she equated life in the spotlight to that of strict routine, which sometimes does not allow authenticity.
"We all have our moments in life where we need to reconcile things that we suppress," she said. "And I think — it's hard growing up in this business and being front and center every day, all day."
Of her own career, and backseat spotlight, she added. "Think about it — I can go to the grocery store anytime I want to, and for the most part, people are like 'Hey, Nia Long.' No one's chasing me down the street. I still have my anonymity, and I appreciate that about my career."
During the conversation, Long also got emotional discussing the difficulties she's faced in recent months. Long went through a very public breakup last year with her fiancé, former Boston Celtics Coach Ime Udoka, after 13 years together. He had been caught having an affair with a female subordinate within the Celtics organization.
"I've had some pretty devastating moments in my life over the last couple of months, and I've had to just say 'It's alright. You'll pick yourself back up' — oh, my God I'm about to cry," Long added. "You pick yourself back up, and you keep it moving."
Amber Heard Strategically Planned To Make Johnny Depp's Life Hell? Ended Marriage Days After His Mother's Death & Filed For Restraining Order On Lily Rose-Depp's Birthday!
Amber Heard very well planned steps in divorce against Johnny Depp to take him down during his lowest phases? Read details now!
Amber Heard has been declared guilty of defaming Johnny Depp during the latest Virginia trial. She was ordered to pay a compensation of $10.35 million which was later settled for only $1 million. But did you know, the Aquaman star strategically took steps during divorce? Well, the details of it will leave you shell-shocked.
A lot had been said and done during the one-year span that Johnny and Amber remained married. There were accusations of cheating with Elon Musk, a threesome with Cara Delevingne and so much more! On the other hand, the Justice League actress accused him of domestic violence, and verbal abuse amongst other claims.
A report by Animated Times now reveals details that are truly giving us goosebumps. It looks like Amber Heard strategically planned to leave Johnny Deppdestructed. She allegedly filed for divorce citing their official separation day as 17th April 2016. Betty Sue Palmer, JD's mom, passed away just 2 days prior to that and the actor was facing his worst possible phase.
On the other hand, Amber heard filed for a restraining order against Johnny Depp on 27th May 2016. That was again the day Johnny Depp was ideally supposed to celebrate the birthday of his daughter Lily-Rose Depp. But unfortunately, his ex-wife stole the thunder.
One refuses to believe that all of this is mere coincidence!
Meanwhile, Johnny Depp denied all the allegations made against him by Amber Heard and termed them "heinous."
He reacted to them in court and said, "It's insane to hear heinous accusations of violence, s*xual violence, that she's attributed to me, that she's accused me of. I don't think anyone enjoys having to split themselves open and tell the truth, but there are times when one simply has to because it's gotten out of control. Horrible. Ridiculous. Humiliating. Ludicrous. Painful. Savage. Unimaginably brutal. Cruel and all false."
Source: Koimoi