Johnny Depp's son Jack looks exactly like him
Various details about Johnny Depp's personal life have become public knowledge since the actor emerged victorious in his defamation case against ex-wife Amber Heard.
Depp's daughter Lily Rose made the headlines during the bombshell trial because of her rocky relationship with the actor. Now the Pirates of the Caribbean star's 20-year-old son Jack Depp, who is a spitting image of his famous father, capturing attention.
Jack Depp is one of the two children that the 59-year-old Hollywood star had with former partner Vanessa Paridis. He is the brother of Lily Rose Depp who is now 22 years old.
It is important to note that Lily Rose Depp has been immersed in the world of show business and especially Hollywood, following in the footsteps of her parents.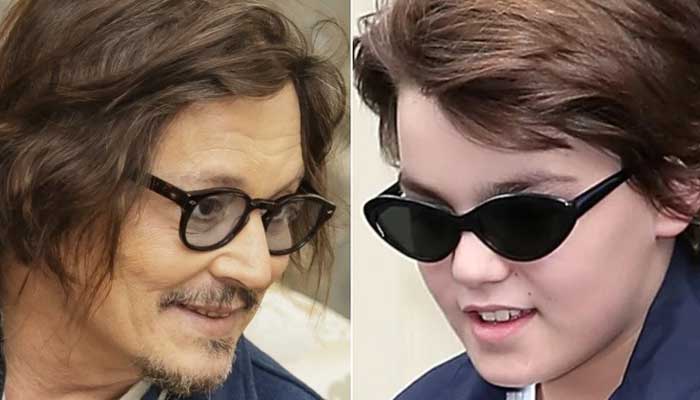 However, John Jack Depp usually keeps a low profile, so not much is known about him. However, in the last few days some photos have surfaced and the resemblance he has with Johnny Depp was surprising.
"My son Jack has always been a very talented artist. He draws very well. He also plays music very well. He has a good ear for it. Apart from school plays and other things, he has not shown any desire to become an actor," the actor said while talking about his son.
A few days ago, Depp shared a photograph on his Twitter account, which immediately went viral, as you can see the striking resemblance to his father.
Sondra From "The Cosby Show" is Now a 64-Year Old Interior Decorator
In 1984, The Cosby Show, on of the greatest TV sitcoms of all times, aired its first episode and its cast and stories have continued to affect today's media in good and bad ways. Much focus and controversy have been placed on the actor Bill Cosby, who played Cliff Huxtable, the main protagonist of the series. However, not many wonder what happened to the many other actors on the set of this show.
Sabrina LeBeauf, also known as Sondra Huxtable,
surprisingly didn't remain an actress for long after her time on
The Cosby Show.
Instead, she began her new profession as an interior decorator. After the sitcom ended in 1992, she began studying at UCLA in a professional interior design program, according to
AmoMama.
When asked by
People
magazine why she took such a drastic change from theatrical arts, LeBeauf states: "Whatever part of the brain and the heart that acting feeds in me, design does the same thing." These days, LeBeauf lives in New York City and serves high-earning clients, and occasionally dabbles in her original career of acting.Follow her on Instagram
@SabrinaLeBeauf
Actor Hal Williams, 'Lester' From "227", is Now 84 Years Old and Still Handsome As Ever
Hal Williams is an accomplished African American actor, renowned for his notable contributions to the entertainment industry. Born and raised in Columbus, Ohio, he went on to gain recognition for his recurring roles in popular television sitcoms like Sanford and Son, The Waltons, and 227.
In the early 1960s, Williams began his acting career in community theaters in Ohio while working part-time as a postal worker and a corrections officer. He relocated to Hollywood in 1968 to pursue his dream of becoming a professional actor. In 1970, he decided to pursue acting full-time, and his career took off from there.
Williams appeared in several movies, including Clint Eastwood's The Rookie, Paul Schrader's Hardcore, and Howard Zieff's Private Benjamin, where he played the role of Sgt. L.C. "Ted" Ross. He was also featured in the television series of the same name. During the early to mid-1990s, he played the lead role in several of comic Sinbad's plays, including The Sinbad Show and The Cherokee Kid. He also portrayed the granddad in the 2005 Bernie Mac movie, Guess Who, which remains one of his most recent motion pictures.
In addition to his acting career, Williams has been married twice and is a proud father of three children. He is now 84 years old and continues to inspire aspiring actors worldwide. Some of his notable film credits include Private Benjamin (1980), Guess Who (2005), and Flight (2012).
He is a remarkable actor whose dedication and hard work have earned him a place in the hearts of many fans worldwide. He remains an inspiration to aspiring actors, and his contributions to the entertainment industry will continue to be celebrated for generations to come.
This is what Chris Rock saw when Will Smith slapped him, according to AI
An artist has shared a series of AI images that have recreated Chris Rock's point of view from the 2022 Oscars, where he was slapped by Will Smith.
During the 2022 ceremony, Oscars host Rock made a joke about Jada Pinkett Smith's shaved head – a style she chose as a way of dealing with the alopecia she suffers from. Will Smith, who is married to Pinkett Smith, then walked on stage and slapped the comedian. He later shouted "keep my wife's name out of your fucking mouth."
The clip quickly went viral but an artist has now used the Artificial Intelligence-driven software Midjourney to create a series of images that show the altercation from Rock's point of view.
"POV: You just talked smack about Will Smith's wife at the Oscars (Big mistake)," wrote Barsee as he shared the first of four images.
2. Prompt:

GoPro view of Will Smith wearing a tuxedo slapping the camera forcefully, Oscars award ceremony in the background, fine art cinematic portrait photography, ultra hyper-realism, dramatic lighting, action photograph –v 5 –s 750 pic.twitter.com/NwKiJY5Uw6

— Barsee 🐶 (@heyBarsee) March 24, 2023
The images have been shared across Twitter, with many users scared by the realism.
"I'm sorry but this AI thing is beginning to scare me," wrote one user. "This makes me deeply uncomfortable," added another while a third declared the "age of deep fakes is here!"
It comes days after an AI-generated image of Pope Francis apparently wearing a Balenciaga-inspired puffer jacket also went viral on Twitter.
Shortly afterwards, Midjourney temporarily disabled the platform's free tier "due to a combination of extraordinary demand and trial abuse."
AI-generated image of Pope Francis goes viral on social media. pic.twitter.com/ebfLK4F850

— Pop Base (@PopBase) March 25, 2023
Over the past year, Will Smith has reportedly "tried unsuccessfully" to make amends with Chris Rock.
In July last year, Smith posted an apology video to address his actions. "I've reached out to Chris [Rock] and the message that came back is he's not ready to talk, and when he is, he will reach out," he said.
During a Netflix stand-up show last month, Rock addressed the Oscars slap and said he "wasn't a victim".
"Everybody knows it happened," Rock said. "I got smacked a year ago. I got smacked at the Oscars by this motherfucker. And people are like, 'Did it hurt?' It still hurts. I've got 'Summertime' ringing in my ear."