Kim Kardashian Accused Of Stealing Met Gala Look From Kanye's Ex Amber Rose
Fans of the reality star took to social media, calling her out for copying Amber Rose's look at the Met Gala
kim kardashian has been accused of copying Kanye West's ex-girlfriend Amber Rose's look for her Met Gala Outfit, which saw the reality star wear Marilyn Monroe's iconic 60-year-old dress from 1962.
On Monday, the 41-year-old walked the red carpet with a bleached blonde hair bun and her bae Pete Davidson donning the antique gown that had 2,500 sparkling stones attached to it.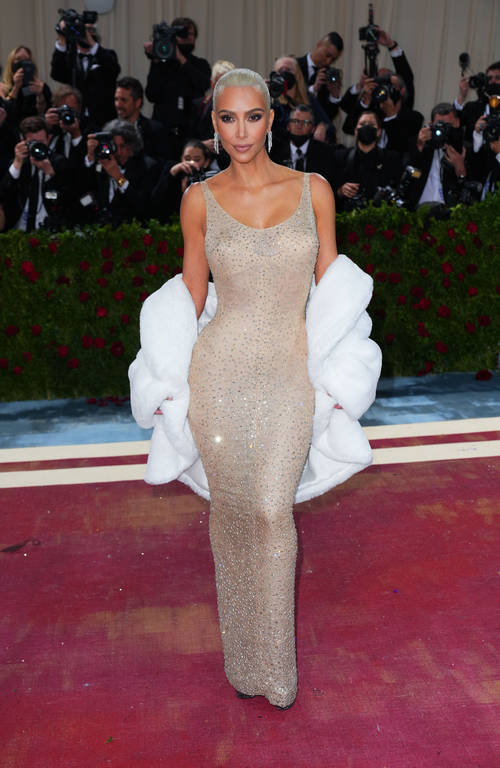 Kim Kardashian attends The 2022 Met Gala Celebrating "In America: An Anthology of Fashion" at The Metropolitan Museum of Art on May 02, 2022 in New York City. Picture: Getty.
The dress was previously sold to Ripley's 'Believe It or Not' museum in Orlando for almost $5 million. It was believed that the Gentlemen Prefer Blondes actress originally paid $1,440 for the Jean Louis dress.
It was famously worn by Monroe when she sang "Happy Birthday, Mr President" to then President John F. Kennedy on his 45th birthday at Madison Square Garden in New York City.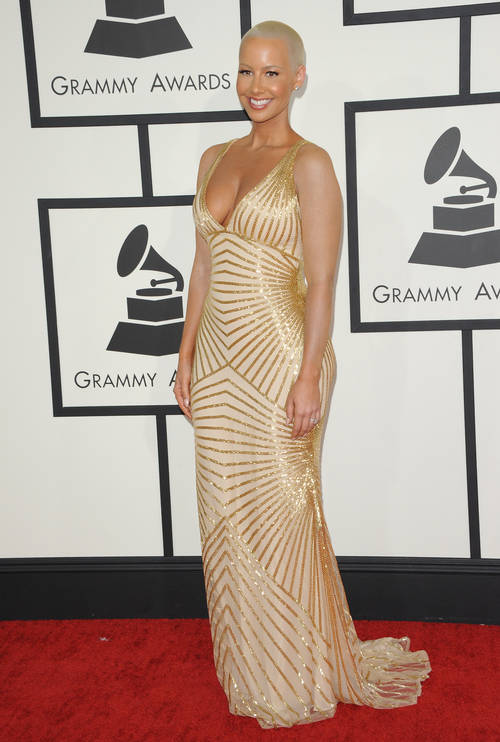 Amber Rose arrives at the 56th GRAMMY Awards at Staples Center on January 26, 2014 in Los Angeles, California. Picture: Getty.
Fans of the SKIMS co-founder took to social media, accusing her of biting Amber Rose's style by wearing sporting platinum hair and a tight figure-hugging dress.
One user wrote: "Ok, but if was so Iconic, why Kim Kardashian looks more like Amber Rose than Marilyn Monroe".
Another one commented: "So it's not me that I thought Kim Kardashian was looking a lot like Amber Rose too!?".
I'm gonna say it, but the first picture of Kim Kardashian at the Met Gala made me double take because I thought it was Amber Rose, it was the hair, it threw me.

— Gráinne (@MissNicoragua) May 3, 2022
Kim also faced backlash for admitting that she had to lose 16 points to fit into the dress, telling Vogue:
"I told them, 'Give me like three weeks'. I had to lose 16 pounds [seven kilograms] today to be able to fit this. Since I haven't eaten carbs or sugar in about three weeks, we're eating pizza and doughnut party back at the hotel".
"I'm Grateful" : Thoughtful American Mum Pregnant With Son's 5th Baby At 56
A mother has revealed she is pregnant with her own son's baby after he and his wife struggled to conceive for years. 
Nancy Hauck, a 56-year-old mum-of-five and administrator from St George, Utah, decided to be a surrogate for her 32-year-old son Jeff and his wife Cambria, 30, as her daughter-in-law was unable to carry more children after undergoing a hysterectomy.
Knowing Jeff loved being a father and wanted to grow his brood, Nancy tentatively volunteered to carry a child for the couple, but had concerns it wouldn't be possible due to her age.
However, the embryo successfully transferred earlier this year, with Nancy due to give birth to her grandchild in November.
"I never imagined I would be pregnant at 56 or that this would be possible, but it is the most beautiful thing," Nancy told the British news agency South West News Service (SWNS), as quoted by the Daily Mail.
Jeff and Cambria had long struggled with fertility issues, undergoing IVF treatment for six years before falling pregnant their now-three-year-old twins, Vera and Ayva. Not long after, the couple conceived another set of twins, 11-month-old Diseal and Luka.
However, the traumatic birth meant Cambria was required to undergo a hysterectomy, an invasive procedure that surgically removes a woman's uterus. The procedure may also involve the removal of the cervix, ovaries and fallopian tubes, meaning the woman will no longer be able to get pregnant. As per Health Navigator, hysterectomies are often carried out to treat conditions that affect the female reproductive system, including bleeding problems, endometriosis, uterine fibroids, prolapse or cancer.
Despite being unable to carry more children, the couple had remaining frozen embryos they were hoping could be implanted into a surrogate – and Nancy decided to volunteer.
"I just had a feeling a few months after that I should offer to do it," she said.
"I told my son, and he teared up and was shocked – I hadn't even told my husband at that point, but he was really supportive.
"I feel very powerful carrying my son's daughter… I think this is quite a rare thing to do. I never planned for it, but I am so glad I chose to carry my son's baby."
Surrogacy is when a woman carries a baby for a couple who are unable to conceive or carry a child themselves. Such couples may include those who have suffered recurrent miscarriages, repeated IVF failures, premature menopause or a hysterectomy.
Straight surrogacy involves using the surrogate's egg and the intended father's sperm; the least expensive and simplest form of the procedure. Host surrogacy, which is the case for the Hauck family, requires IVF with either the intended mother's eggs or donor eggs, rather than those of the surrogate. In this case, the surrogate is typically unrelated to the baby, and donor eggs can be from friends or relatives, or anonymously donated.
After approaching fertility experts with their proposal, doctors had concerns about Nancy's age; however, an exam found she could still be a viable carrier for the couple as long as they acted before she entered menopause.
"I left the choice up to Jeff and Cambria. They'd just had their twins, so it was very quick after to have another baby. But they decided to go for it."
Nancy began hormone treatment in January 2022, injecting herself daily for 12 weeks with the help of her husband and Jeff's father, Jason. The fertilised embryo was transferred into her uterus a month later – and 26 years after Nancy's last pregnancy.
Speaking to the news service, Jeff said his mother's selfless act has left him in awe of her "kindness, love, strength, attitude, wisdom, and dedication".
"She is sacrificing so much for us, and our family and we just feel so grateful. It has been so miraculous and beautiful," Cambria added, as quoted by the Daily Mail.
In May, the family discovered they were expecting a baby girl, who is due to be born on November 5.
"There is no repayment for something like that – all I can do is follow the example my parents have set and try to give that same level of love and devotion to my own family and to others," Jeff concluded.
Is Chinese President Xi Jinping under house arrest?
Reports suggest that Chinese President Xi Jinping has been put under house arrest after he was removed from the post of PLA chief.
Chinese President Xi Jinping is currently under house arrest, several media reports claimed on Saturday, adding that the capital Beijing is currently under army control. The reports have not been confirmed by either Chinese credible media, or have been independently confirmed by India TV.
The reports claimed further that international and domestic flights to and from Beijing have been halted, and that the city has been cut off from the rest of the world. Claims add that President Xi Jinping has been put under house arrest after he was removed from the post of PLA chief.
A report by News Highland Vision stated that ex-Chinese President Hu Jintao and former PM Wen Jibao persuaded Song Ping, a former member of the Standing Committee, to join them and take control of the Central Guard Bureau. The CGB is responsible for the security of the President, and the standing committee of the ruling Communist Party of China.
Army convoys leading to Beijing?
Videos that surfaced on social media from unverified accounts suggest large army convoys taking rounds around Beijing. Tweets mention that President Jinping has been sacked.
#PLA military vehicles heading to #Beijing on Sep 22. Starting from Huanlai County near Beijing & ending in Zhangjiakou City, Hebei Province, entire procession as long as 80 KM. Meanwhile, rumor has it that #XiJinping was under arrest after #CCP seniors removed him as head of PLA pic.twitter.com/hODcknQMhE

— Jennifer Zeng 曾錚 (@jenniferatntd) September 23, 2022
The videos add that the large army convoy is about 80 km long and is headed to Beijing. Rumours suggest that military vehicles of the PLA were going towards Beijing on 22 September. The convoy allegedly started from  Huanlai County near Beijing, ending in the city of Zhangjiakou.
Xi detained at the airport: Reports
As soon as Jintao and Jibao took control of the CGB, rumours add, members of the Central Committee in Beijing were intimated on the phone. This led to Jinping allegedly being detained at the airport when he returned from Samarkand in Uzbekistan, where he attended the SCO summit. Reports stated that the members of CGB have had several closed-door meetings in the past 10 days. The same reports add that this action was taken with the aim of taking power away from Xi.
It is also being said that while Xi Jinping was at Samarkand, the ex-PM and President had plotted against the President. This was a result of Xi's probability to become the Chinese President for the third consecutive time.
Johnny Depp is another victim of the corrupt UK justice system
In our last article in May 2021 we reported on how Johnny Depp came to the UK to seek justice and was deprived of the right of a fair trial. A story all too familiar with many thousands who come to the courts in the UK to get justice, only to be served more injustice.
The USA courts are more focused on delivering justice. Earlier this week, on 17th August the Chief Judge in Fairfax, Virginia presiding over the Depp v Heard 2019 case dismissed Heard's claim of res judicata (stating all matters had been tried in the UK), endorsing our view and citing in the 11-page pre-trial opinion that: "The Court is not persuaded by Defendant's argument that Plaintiff had a full and fair opportunity to litigate the UK Action. Defendant was not a part in the UK action and was not treated as one".
"In fact, Defendant could not have been a named defendant to the U.K. litigation because her allegedly defamatory statements were made after the U.K. action commenced" said Penney Azcarate, the judge presiding over the case.
After our intensive investigation, it is our view that the allegations by Heard and the assistance by the UK's corrupt judiciary is nothing other than an elaborate fraud designed to discredit Johnny Depp ("JD") whilst using the high profile allegations to drive traffic to The Sun newspaper.
An obvious conflict of interest
Let's face it, the UK trial was a sham. The Judge, Andrew Nichol is intimately connected with Dan Wootton, The Sun's journalist who posted the defamatory allegation that JD was a "wife beater". The connection is through the Judge's own son, Robert N Palmer, who works alongside Wootton at TalkRadio, part of the same group owned by Rupert Murdoch's News Corp. Wootton, is a journalist and broadcaster from New Zealand, an executive editor of The Sun newspaper and a regular host of TalkRadio's drivetime show. An incestuous conflict of interest, putting it mildly. Why, knowing of this conflict did Mr Justice Nichol preside over the case we ask? Why, in such a high profile case did the Lord Chief Justice allow Mr Justice Nichol to preside over the case, when any other judge could have done so? We believe the answers are naturally, self-revealing.
Johnny Depp's counter allegations and evidence was ignored