Letesenbet Gidey Holds On To Win Women's 10,000 In Wild Finish At World Athletics Championships
World record-holder Letesenbet Gidey of Ethiopia won the women's 10,000 meters in a wild finish Saturday in the World Athletics Championships at Hayward Field.
Four women came off the final turn with a chance to win. Gidey was the first to the finish line, but just barely.
Gidey's winning time was 30 minutes, 9.94 seconds. Kenyan Hellen Obiri was second in 30:10.02 and fellow Kenyan Margaret Chelimo Kipkemboi third in 30:10.07.
Heading around the turn and onto the straight, it looked for all the world like the race was Sifan Hassan's for the taking.
Hassan, a double gold medalist at the Tokyo Olympics, was perfectly positioned, just wide enough for a straight, unobstructed shot at the finish line.
But Hassan, who represents the Netherlands, couldn't sustain her kick. She crossed a close fourth in 30:10.56.
It was a competitive, wicked-fast race. Karissa Schweizer, U.S. champion from the Portland-based, Nike-sponsored Bowerman Track Club, rode in their jet stream to a ninth-place time of 30:18.05, a personal record by nearly 30 seconds.
The close finish had a large Hayward crowd roaring as the runners fought for the finish line.
"I am so happy about this performance," Gidey said. "I was thinking about winning this gold since 2019, but Hassan was always there."
And Hassan, once a member of the Portland-based Nike Oregon Project, is formidable.
Not only did she win gold in the 5,000 and 10,000 last summer in Tokyo, she added a bronze in the 1,500 in what was a freakishly difficult triple, taxing speed, strength and endurance.
But this isn't that version of Hassan. Exhausted by a sustained, long-term workload that also included gold medals in the 1,500 and 10,000 in the 2019 world championships and the mental strain of the 2020 COVID year, Hassan went on a prolonged vacation after the Olympics.
She said Saturday she still isn't completely fit.
"I trained so hard for almost two years, and after three races in Tokyo, I was crushed," Hassan said. "Mentally crushed. Like, I didn't even care about running. So, I took a break for seven, eight months."
She worked off some of the rust last week by winning the 5,000 meters in the Stumptown Twilight at Portland's Jesuit High School.
Though she won that race, her winning time of 15:31.41 was pedestrian, at least for her.
On the final straight on Saturday, she didn't have her killer kick. But she helped make the finish something exciting.
Obiri, 32, almost won the race. It was a strong showing from a runner who declared at the end of the last season she was giving up the track to be a road racer. She was happy with it.
Coming in, she said she was thinking, "if I can get something, I will be OK. I felt no pressure about this race."
She had some oomph left for the final straight.
"My legs were tired," she said. "But I said, 'No. Let me try to get something.'"
Schweizer ran a gritty race, staying with the front pack most of the way. She didn't lose contact until the final two laps.
And, really, what isn't to like about a monumental personal record on the championship stage?
"I really stuck my nose in it," Schweizer said. "I knew that the pace was above my PR range. I wanted to go out there and try to compete."
Mission accomplished.
"If the best shape of my life means ninth," Schweizer said, "than that is what it is today."
'I haven't been the same since my wife of 17 years cheated' – Totti
Former Italy international Francesco Totti has revealed that he fell into depression after he found out his wife, whom he had been married to for 17 years, was cheating on him.
The Roma legend was married to Ilary Blasi but their marriage collapsed after the footballer announced his retirement.
Totti and Blasi tied the knot in 2005 and are blessed with three children, but the pair decided to split in July last year.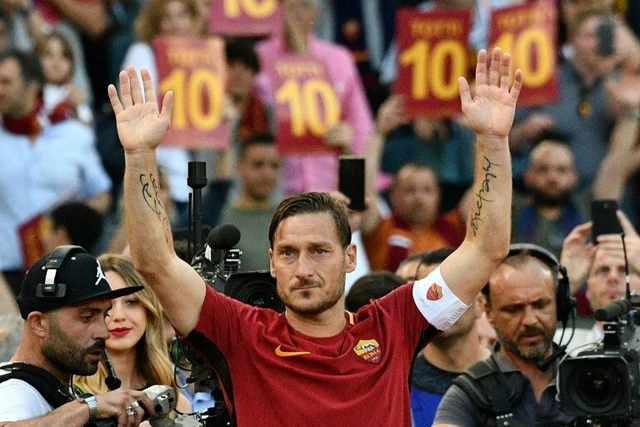 The 46-year-old said he struggled to cope after his retirement and further revealed that his father died after contracting Coronavirus.
According to Totti, he hasn't been himself since Covid killed his father and his marriage also collapsed after his wife cheated.
"I have lived through a difficult period, first because I stopped playing and then my father died due to Covid," Totti said, as quoted by Marca.
"I also had a strong Covid (illness) for 15 days. However, my wife, when I needed her most, was not there. It is not true that I was the first to betray. I said I was not going to speak and I did not, but I have read too many hoaxes in recent weeks. Some have even made my children suffer."
Girls will never be satisfied 💔

— raymonholland. (@ibrahimramon10) September 15, 2022
He added: "In September of last year the rumours began to reach me: "look, Ilary has another one. Indeed, more than one.
"I had never done it in twenty years, nor had she ever done it with me. But when I received warnings from different people, whom I trust, I began to suspect.
"I looked at her cell phone and I saw that there was a third person, who acted as an intermediary between Ilary and another. Here was the evidence (of the affair). The facts. And that led me to depression. I could no longer pretend that nothing was happening, but it wasn't me anymore, it was someone else. I got out thanks to Noemi."
Totti retired in 2017 following a trophy-laden career that lasted over two decades.
Tiger Woods ex girlfriend Erica Herman is suing him for $30 million after he kicked her out his house
Golf legend Tiger Woods' now-ex, Erica Herman has allegedly sued him and his Jupiter Island Irrevocable Homestead Trust for violating Florida's Residential Landlord Tenant Act. Her lawsuit was initially filed in October 2022, usmagazine reported.
Wood, 47, tricked Herman, 38, into thinking he was taking her on vacation, but instead dropped her off at the airport and locked her out the house.
Herman's claim
Herman says she has lived at Woods' residence since he purchased the Florida property and "performed valuable services at the request of [Tiger's] agents," which was part of an "oral tenancy agreement" that allowed her to live there. Herman further.., Woods had engaged in premeditated "prohibited practices" to get her to leave the mansion upon their recent split.
The Court Document
In the filings, Herman alleges Woods used 'trickery' and repeatedly refused to let her back into the 12-acre grounds which, she says, violates the oral tenancy agreement and Florida law.
Herman also claims that Woods then removed her personal belongings from the house and 'took $40,000 in cash that belonged to her, before making scurrilous and defamatory allegations about how she obtained the money.'
In the filing, Herman alleges that she and Woods had an 'oral agreement' that meant she could live at the mansion for a total of 11 years, of which she still had five years remaining when the couple called off their romance.
Tiger Woods and Erica Herman started dating in 2017, but haven't been seen together in public since the US Open tennis tournament in August of last year.
Source: usmagazine.com
Marie-Claire; Christian Atsu's wife shares their family photos to mourn the footballer
The partner of Christian Atsu is still grieving over the sudden demise of the footballer who lost his life in the Turkey earthquake disaster.
Marie-Claire Rupio, who has been married to the Ghanaian footballer for about 11 years, has taken to social media to mourn her husband. The German dancer, a singer who is also an author, posted her family photos online.
The photos include a shot of the late winger with their daughter and others which captures Atsu with herself and their two sons.
Marie posted the black and white photos today, 22nd February 2023, on her instastory. All her posts came with no caption which tells how she may be out of words to express the kind of grief she is going through with her family.
Marie-Claire; Christian Atsu's wife shares their family photos to mourn the footballer
Clearing the air, the footballer's wife said "there is a video going around from a woman who pretends to be me. This woman is not me, I have seen it on Ghana Web I ask you to take this video down immediately. This is a very hard and painful few days This is not okay. If you know the site please send this to them. Thank you".
The Black Stars' and Former Chelsea and Newcastle United forward, Christian Atsu, was found dead on Saturday after he went missing following an earthquake that affected his apartment in Türkiye.
His mortal remains arrived at the Kotaka International Airport on Sunday, February 19, 2023.
The footballer's remains were accompanied from Turkey by his family and Ghana's ambassador to Turkey, Francisca Ashietey-Odunton, Ghana's foreign ministry said.
The plane landed at 19:25 GMT in Accra where it was met by relatives, government officials and representatives of the Ghana Football Association.
The winger played 65 times for Ghana's national team and helped his side reach the 2015 Africa Cup of Nations final.