Senegalese football fans hopeful for World Cup triumph after seeing trophy in Dakar
Fooball fans in Senegal have taken a glimpse at the World Cup trophy displayed at the Grand Theatre in Dakar on Wednesday as part of a tour organized by FIFA.
After winning the African Cup of Nations in February, Senegalese fans believe that the 'Lions of Teranga' have every chance of winning the 22nd edition of the World Cup in Qatar
"I saw the World Cup on TV and I always dreamed of seeing it with my own eyes. The trophy is very nice, look how beautiful it is. It is not for nothing that it costs almost 18 million euros. This cup must return to Senegal. Senegal must be world champions." says Boy Marone, a Senegalese fan.
Senegal have appeared in the finals of the FIFA World Cup on two occasions, in 2002 where they reached the quarter finals, and in 2018. They were the first team in World Cup history to be eliminated using the fair play rule after being tied with Japan on the first six tiebreakers. As the current champions of Africa, there are huge expectations.
"Our wish is to go to Qatar and win. For the first time, an African country can win the World Cup and we hope that this time will be the one. In December, we'll win the trophy, we can win it." Alioune Ngom, another  fan says.
After Ghana and Senegal, the trophy displays in Yaounde this Thursday and Friday and will then fly to North Africa to visit the last two African countries that qualified for the World Cup: Morocco and Tunisia.
In total, the 2022 edition of the FIFA World Cup Trophy Tour will stop in 51 countries and territories, The spellbinding journey will finish in Doha, Qatar just a few days before the greatest show on Earth gets under way on 20 November 2022.
UFC Star 'catches wife in bed with mate on Wedding Night'
UFC fighter Tim Elliott claims his ex-wife cheated on him with his friend on their WEDDING NIGHT and during their 'entire marriage'.
UFC flyweight fighter Tim Elliott has accused his ex-wife Gina Mazany of cheating on him with his friend and teammate Kevin Croom throughout their marriage – including on their wedding night, it's been reported by The New York Post.
The report found Elliott took to Twitter to make his accusations – posting a picture of Mazany reading wedding vows to his daughter Sterling (who he had through a past marriage) while Croom holds a microphone for her.
'You want to see something gross? This is my "wife" reading vows to my daughter on our "wedding" night,' Elliott wrote.
'The guy holding the microphone was my "friend/teammate" my wife cheated on me with this guy the same night! and they have had a relationship our entire "marriage."'
The Post reports Elliott also says that he is no longer married to Mazany. He also says Mazany and Croom are currently together. Dailymail.com has reached out to their representatives for comment.
UFC flyweight fighter Tim Elliott is reportedly accusing his ex-wife of infidelity in a Twitter post
  Gina Mazany
Kevin Croom
Elliott made this post, calling out Mazany's infidelity with his friend Croom (holding mic)
Elliott says he found out about the alleged infidelity through text messages sent by Mazany to a friend, according to the report.He also says Mazany later confessed to him.He also says that the wedding night cheating happened as he went back home to put his daughter to sleep. Mazany didn't go back with him afterwards due to 'friends there from out of state'.
Elliott poses for a portrait with now ex-wife Mazany after his UFC victory back in July 2020
Mazany has deleted her Instagram account but pictures of the couple are still on Elliott's page
Elliott and Mazany at the annual Fighters Only World MMA Awards in Las Vegas in July 2019
Mazany has deleted her Instagram account recently. However, there are a number of posts of the former couple still up on Elliott's page.
Both Mazany and Croom were cut by the UFC last April following losses – but they have since pursued other promotions.
Elliott has not fought in the UFC since his appearance in UFC 272 where he defeated Tagir Ulanbekov by unanimous decision.
He's next scheduled to face Victor Altamirano on June 3.
Former NFL player Chris Smith dies at 31
Former NFL star Chris Smith has died, his agent announced on Twitter. He was 31.
Smith, who was a former defensive lineman for the Cleveland Browns, spent eight years in the NFL and played for multiple teams including the Jacksonville Jaguars, the Cincinnati Bengals and the Las Vegas Raiders.
His cause of death was not immediately known.
On social media, tributes poured in for the former player.
"Chris was one of the kindest people, team-mates and friends we've had in our organisation," the Browns team wrote on Twitter.
Smith began his NFL career in 2014 when he was drafted by the Jacksonville Jaguars as a defensive lineman. But his personal life was marred by tragedy. In 2019, his girlfriend Petara Cordero was killed in a car accident just weeks after giving birth to their child.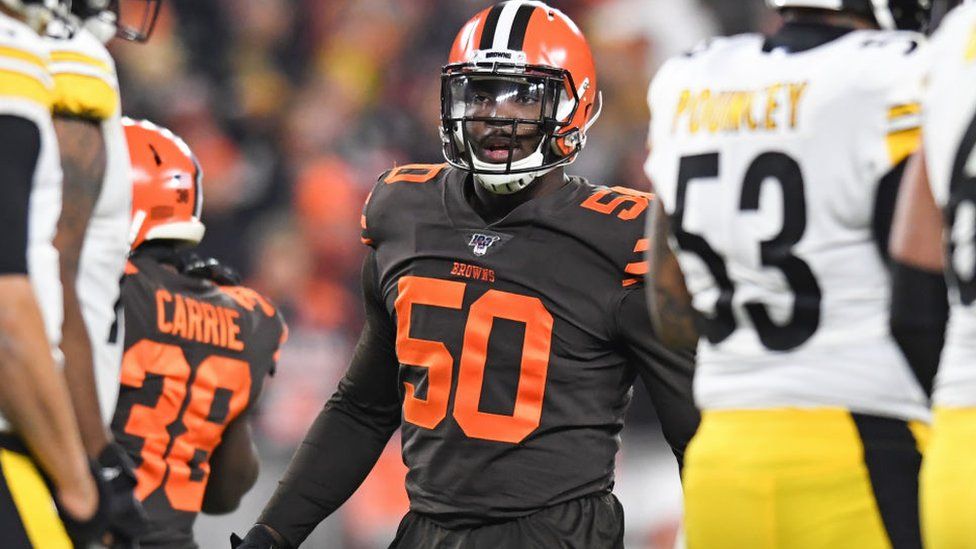 IMAGE SOURCE,

GETTY IMAGES
Image caption, Chris Smith played for multiple teams in the NFL including the Cleveland Browns
Tony Khan, son of Jacksonville Jaguars owner Shahid Khan, described Smith as a "great team-mate and friend".
"He suffered a tragic loss," he wrote on Twitter. "I hope they are reunited in Heaven."
Smith spent three seasons with the Jaguars before going on to play for the Cincinnati Bengals and the Cleveland Browns. But before he joined the NFL, he was a hometown hero and star of his North Carolina high school football team, according to a local newspaper.
"He had been the ultimate give-back guy and had been a generous donor to local schools and projects," the Salisbury Post wrote in an obituary.
Former NBA Star Shawn Kemp Charged In Parking Lot Shooting
Shawn Kemp has been charged with first-degree assault … a charge stemming from that March parking lot altercation where the NBA legend was seen shooting a gun.
The case had been in limbo until this week. Authorities in Washington initially arrested the SuperSonics legend, before deciding they needed more time to investigate. All the while 53-year-old Kemp claimed he acted in self-defense, saying his actions were "reasonable and legally justified."

Unfortunately for Shawn, that's not the way prosecutors ultimately saw it, and they've now hit him with a first-degree assault charge. If convicted, the charge can carry a life sentence.