Viola Davis Talks About Her 'Transformative' Role in The Woman King
The Woman King, per the Deadline  description, tells the story of Nanisca (Viola Davis), the general of the all-female military unit, and Nawi (Thuso Mbedu), an ambitious recruit. Together, they fight enemies who violated their honor, enslaved their people, and threatened to destroy everything they've lived for. The film is directed by Gina Prince-Bythewood and is due to arrive in theaters on September 16th.
"It was a different state of mind to tap into that spirit—that bravery. Certainly, that's not a mindset that I carry on a day-to-day basis. I'm someone who carries pepper spray and a little alarm on my keychain," said Davis in an interview with Vanity Fairalongside Prince-Bythewood.
The film is based on the true story of the Agojie (also known as Amazons), the real army of women warriors who defended the mighty West African kingdom of Dahomey, located in modern-day Benin, during the 17th, 18th, and 19th centuries. They are also the inspiration behind the Dora Milaje in Black Panther.
"I grew up an athlete. The women around me were athletes. There was a normalcy to how I thought about myself. You fight. Aggression is good. Leave it all out on the floor. And as I got older, it surprised me how few women had the advantage of growing up like that. That innate warrior that I believe we all have is dormant in so many women because it wasn't encouraged or valued," said Prince-Bythewood.
In the words of Vanity Fair, the film is being hailed as "a Black female Braveheart." The battle scenes in the film are both graphic and culturally specific. According to Prince-Bythewood, her approach to the film was that these women were fascinating on their own, no embellishment required, so she wanted it to be real, visceral, and raw. But there's a vulnerability to the characters there as well.
"We didn't want to show them as just one thing—badass women who killed. They also laughed and loved and cried. We wanted to show their full humanity, not just the cool part that would look good in a trailer," said Prince-Bythewood.
More on What it Was Like Making The Woman King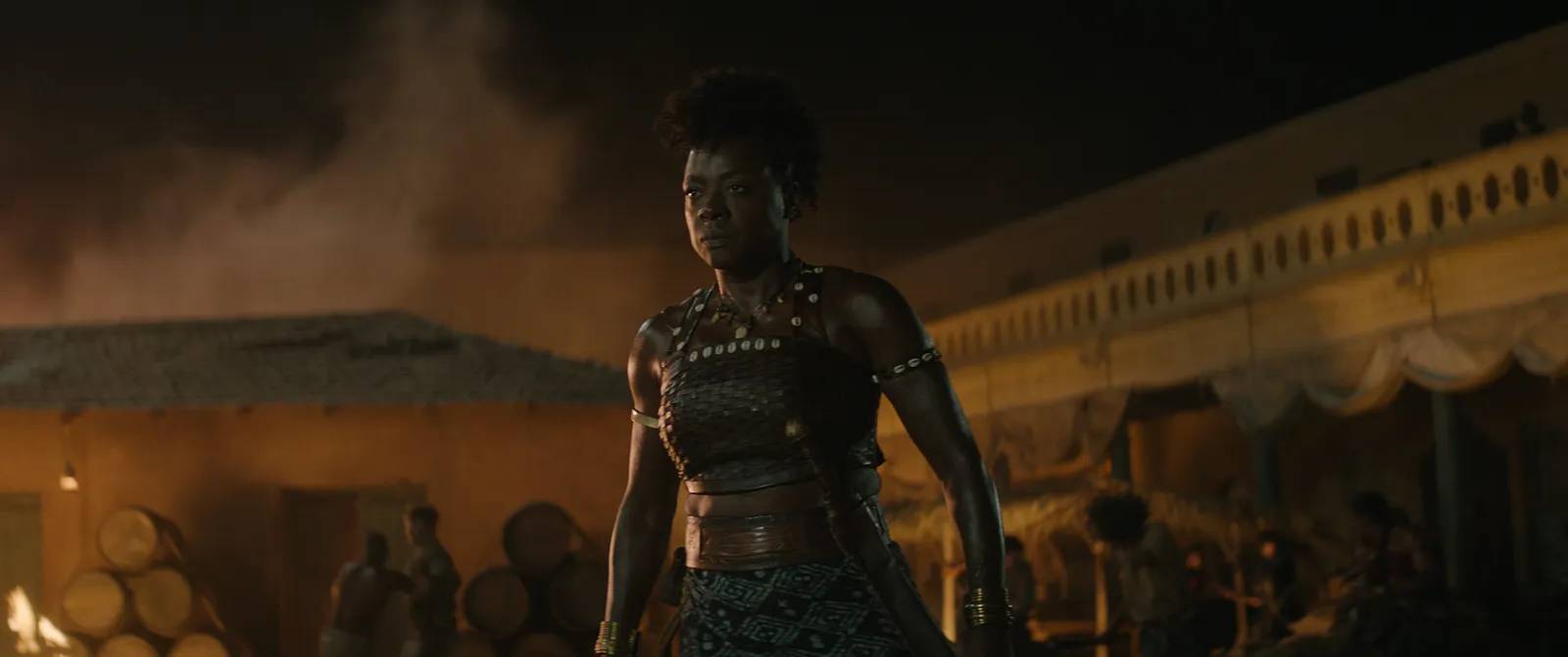 According to Davis and Gina Prince-Bythewood, getting The Woman King made was a bit of a struggle. According to Prince-Bythewood, getting a green light always takes a long time, especially for a story like this. Davis said that it's always hard. It is hard to be an artist, hard to be a Black artist, and even harder to be a Black female artist.
"I just kept picturing the first time I would be on set, and say "action," and look around and be surrounded by us. I held that thought with me until it happened," said Prince-Bythewood.
According to Prince-Bythewood, only a very few people are truly great at what they do. One of the few is Davis, who created an environment where you bring your A-game. Davis made her character better. She made scenes better. Davis herself had very good things to say about Prince-Bythewood as well.
"Integrity. Integrity is in short supply in this business. Her skill set. Her vision. Her passion. I didn't feel like I had to work so hard to explain myself as a Black woman—my inner narrative," said Davis.
Both director and star were asked what they feared most when taking on this project. For Davis, it was what this movie would mean to black people since this is something that's never been done before. And what it would mean for Black women sitting in the movie theatre, according to her, the responsibility is really high.
I've never had a role like this before. It's transformative. And to be a producer on it, and to know that I had a hand in bringing it to fruition…. There's always a vision you have for your career, but there are very few roles as an actress of color. Dark skin with a wide nose and big lips. I'm just gonna continue to say it. Those stories are extraordinarily limited," said Davis.
Kwame Baah sets to launch a global BUSINESS plug for musicians and all entertainers
Ghanaian digital marketing expert, Kwame Baah is set to launch a global business agency for artiste booking.
"The  primary focus of Get the Artiste is to  bridge the gap between artistes and people or businesses who need talent for various engagements, be it a concert, event, Tv show or guest appearances" Baah told mediaplugafrica.
He explained: "Booking agency is not anything new, is all over the world so it's nothing new. We are just trying to bring it over here in Ghana  so that our artiste easily  get to be connected with locally and internationally".
K. Baah currently manages,  strategize, grooms and promotes most of the big names in the Ghanaian music industry.
The official  launch of K. Baah's initiative "Get The Artiste" will take place on Friday, February 10, 2023 at the 3Music Headquarters, Accra at exactly 5pm.
Ed Sheeran returns to social with an emotional personal announcement
British singer Ed Sheeran took to his Instagram to share an emotional personal announcement following his return to social media after a two-month break.
In a video he shared on Instagram, The singer, 31, admitted he has been emotionally detached for much longer.
"I realise I haven't been that engaged in my social media or my fan base online over the last couple of years and the things that have been posted on this account might have got a bit boring, I'm sorry, it's my fault. Ed said in a video.
"The reason I'm making this video is, just being totally honest, I've had some turbulent things happening in my personal life so I just didn't really feel like being online and pretending to be something I'm not, when I wasn't feeling like that.
"And I know that sounds weird but hence I'm making this video to say things are looking up and I'm back online.
"Weird s*** is going to start being posted here."
However, Ed  did not elaborate on what "turbulence" he'd endured, In February, he lost his close friend Jamal Edwards who tragically died after a cardiac arrest brought on by taking cocaine and drinking alcohol. Three months later, Ed and his wife Cherry Seaborn announced they had welcomed a baby daughter.
In November, Ed told his followers that he was taking a break from social media, after wrapping up work on a new music video.
Sharing a behind-the-scenes snap overlooking a beach, he penned the caption: 'Signing off now until 2023. See you in the new year. Much love, Ed x.'
According to daily mail, the singer is in the middle of a worldwide tour, and is currently performing a run of shows in Australia and New Zealand.
Chicago prosecutor drops sex abuse charges against R. Kelly
Cook County State's Attorney Kim Foxx told reporters that her office believes "justice has been served" against Kelly, who has been convicted in federal court.
An Illinois prosecutor dropped 10 charges of sex abuse against the singer R. Kelly on Monday, saying the cost was one of the factors she weighed in her decision.
Kelly, whose real name is Robert Sylvester Kelly, is already serving a 30-year prison sentence on charges of federal racketeering and sex trafficking after he was convicted in New York last year.
Cook County State's Attorney Kim Foxx told reporters that her office believes "justice has been served" with the two convictions. She said her office's "limited resources and court time" were the ultimate factors, noting that it found the accusations to be credible.
"Mr. Kelly is looking at the possibility of never walking out of prison again," Foxx said.
Kelly is set to appear Tuesday in Cook County Court, where the charges will be formally dropped. The state has accused Kelly of sexually abusing four people, three of whom were minors.
Foxx announced the state's case in 2019, saying the incidents occurred from May 1998 to January 2010. Kelly had faced three to seven years in prison for each charge if he were convicted.
The women in the case were identified in the indictment only by their initials. Multiple women have come forward with allegations over the years.
Lifetime aired a six-part docuseries, "Surviving R. Kelly," in January 2019 in which multiple women alleged Kelly subjected them to mental, physical and sexual abuse. Foxx urged potential victims to come forward to speak with her office about possible criminal activity after the series.
Foxx said Monday that she consulted with the women in the indictment before she decided to drop the charges, acknowledging that some might be disappointed.
"I know firsthand how difficult it is for you to tell your stories," Foxx said. "Four years ago, I stood at this podium and shared my story of having been a survivor and my full understanding of what it means to have to go before strangers to discuss what is arguably one of the most horrific experiences one could have. And these women, all of them Black, came forward, believing that they would be heard."
Kelly also faces state charges in Minnesota, where he has been accused of soliciting a minor for sexual purposes and engaging in prostitution with a minor.
In the New York case, Kelly was convicted on nine counts of racketeering and sex trafficking. Jurors found that he set up a criminal enterprise that enabled him to recruit and transport underage girls for sex.
Months later in Chicago federal court, he was convicted on six counts of sexual exploitationand enticement of a minor. He is scheduled to be sentenced on those charges Feb. 23.
Kelly's attorneys have said he plans to appeal both federal convictions.
Source: NBC NEWS