Who is Tessa Gourin? Actress claiming to be Jack Nicholson's daughter slams Lily Rose Depp over nepo baby remarks
Actress Tessa Gourin, who claims to be actor Jack Nicholson's daughter, recently slammed Johnny Depp and Vanessa Paradis' daughter Lily Rose Depp over her comments on nepotism in Hollywood.
In a recent interview with Elle, Lily Rose denied the idea that her father's position in Hollywood has brought her opportunities in the industry. She said:
"I just hear it a lot more about women, and I don't think that it's a coincidence. It's weird to me to reduce somebody to the idea that they're only there because it's a generational thing. It just doesn't make any sense."
Lily-Rose Depp on "nepo baby" label:
"It just doesn't make any sense. If somebody's mom or dad is a doctor, & then the kid becomes a doctor, you're not going to be like, 'You're only a doctor because your parent is a doctor.' It's like, 'No, I went to medical school & trained.'"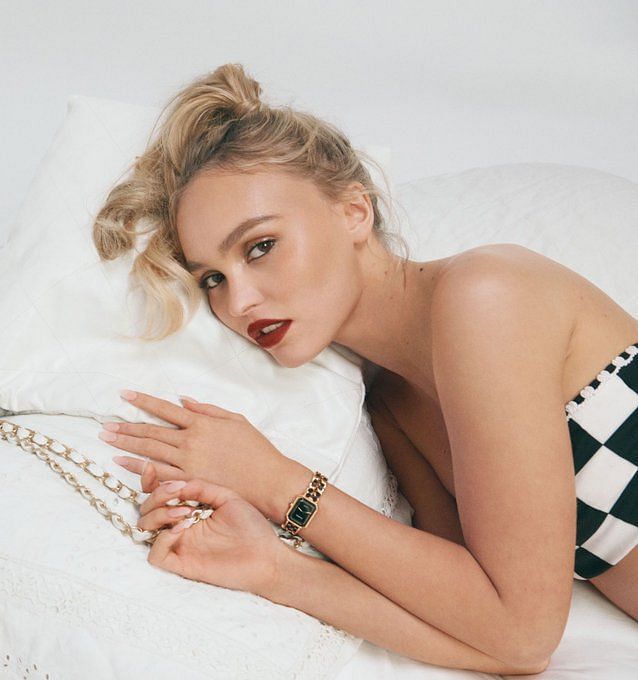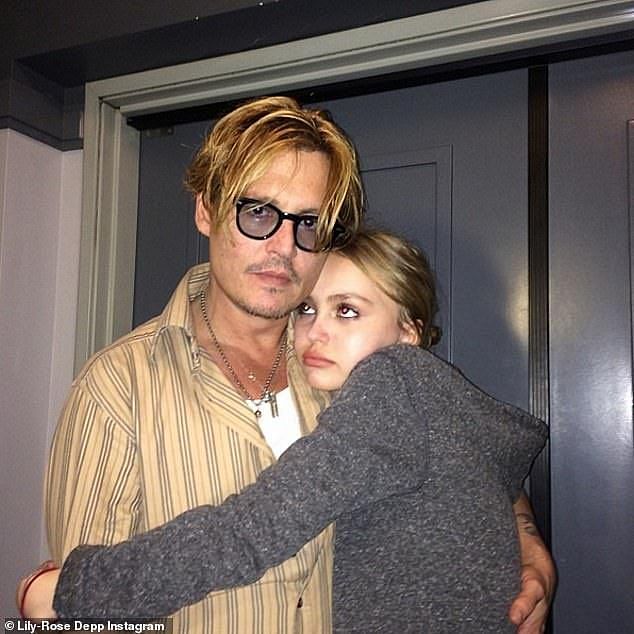 Depp further used the example of medical students and said that someone does not become a doctor if their parents are doctors, but only if they attend medical school and get professional training.
"If somebody's mom or dad is a doctor, and then the kid becomes a doctor, you're not going to be like, 'Well, you're only a doctor because your parent is a doctor.' It's like, 'No, I went to medical school and trained.'"
The actress clarified that she did not compare her line of work to that of medical life and admitted that her childhood was different from that of others.
She also mentioned that despite the internet having preconceived notions, an actor can only bag a role if they are a fit for the same:
"The internet seems to care a lot about that kind of stuff. People are going to have preconceived ideas about you or how you got there, and I can definitely say that nothing is going to get you the part except for being right for the part."
The Chanel brand ambassador added:
"The internet cares a lot more about who your family is than the people who are casting you in things. Maybe you get your foot in the door, but you still just have your foot in the door. There's a lot of work that comes after that."
Tessa Gourin (apparently Jack Nicholsons secret daughter?!) called out Lily Rose Depp for rejecting the term nepotism when benefitting from it and what it's like to be defined by men in your life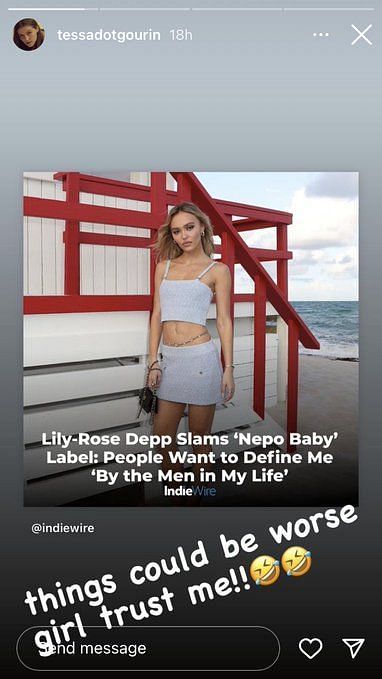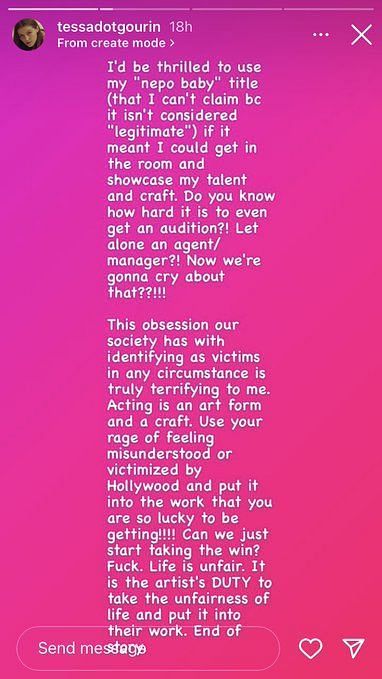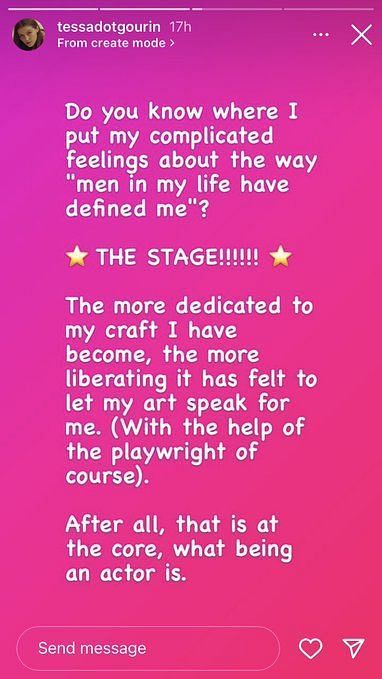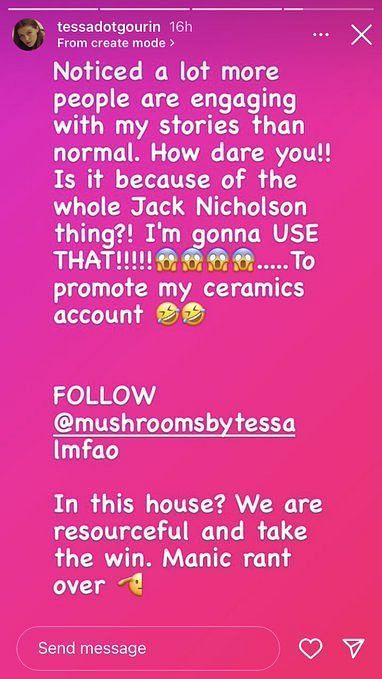 As Lily Rose Depp's interview circulated online, Tessa Gourin called out the former on Instagram and said she would love to use her "nepo baby" title to receive opportunities to showcase her talent but cannot do the same as she is not considered Jack Nicholson's "legitimate" daughter.
Tessa Gourin is alleged to be Nicholson and New York City real estate agent Jennine Gourin's love child. However, The Shining star has never publicly acknowledged Tessa as his daughter.
Everything to know about Tessa Gourin
Tessa Gourin is an actress and ceramics artist based in New York. As per IMDb, she has acted in projects like Stranger's Arms, Stage Play, and The Crusaders. She also operates her ceramics Instagram account named Mushrooms by Tessa.
Gourin was reportedly born in New York in August 1994 and is currently 28 years old. According to The National Enquirer, Gourin's mother, real estate agent Jennine, claimed that she had an affair with veteran actor Jack Nicholson in the 1990s, and Tessa was their love child.
Back in May, Tessa Gourin shared an article on Instagram that addressed her as Nicholson's illegitimate child and slammed the identification. At the time, she wrote:
"PSA: There is no such thing as an 'illegitimate' child, only an illegitimate parent."
She further denounced the term in another story and said:
"It is ASTOUNDING to me that anyone would use the term 'illegitimate' to describe someone in this day and age. I just pinched myself and it turns out… I LEGITIMATELY exist."
While Jack Nicholson has five other children, he has never publicly acknowledged Tessa Gourin's or her mother's alleged past relationship with him.
What did Tessa Gourin say about Lily Rose Depp's comments on nepotism?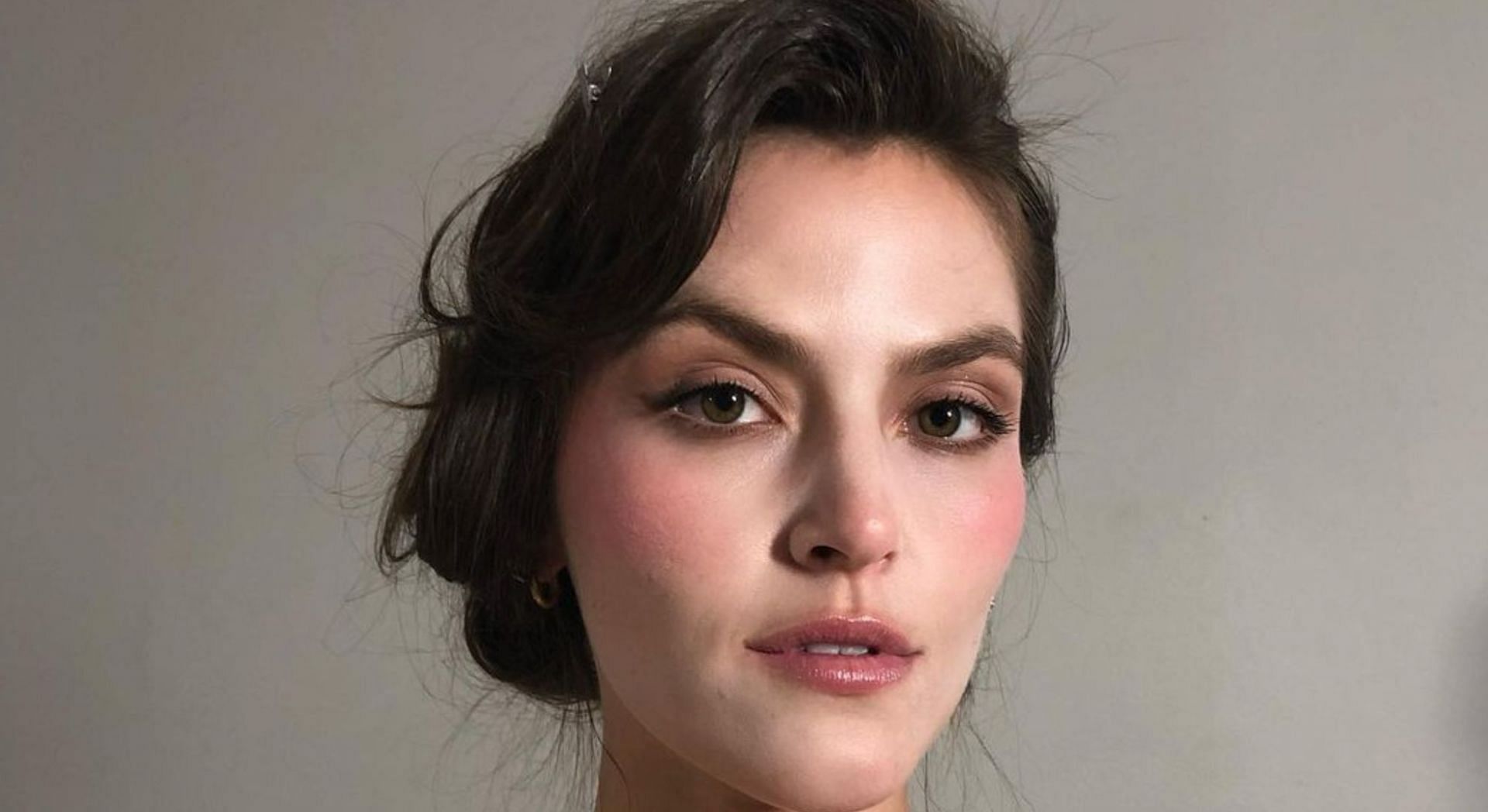 Tessa Gourin called out Lily Rose Depp over the latter's comments on nepotism (Image via Tessa Gourin/Instagram)
As Lily Rose Depp's remarks on nepotism went viral on social media, Tessa Gourin shared an IndieWire article about the former's interview titled Lily Rose Slams 'Nepo Baby' Label: People Want to Define Me By the Men in My Life and said:
In an Instagram story, Gourin mentioned that she would have loved to use the "nepotism baby" title to get an opportunity to showcase her talent if she were to be considered a "legitimate" child in the industry.
Speaking about the struggles in Hollywood, the aspiring actress said:
"Do you know how hard it is to even get an audition?! Let alone an agent/manager?! Now we're gonna cry about that??!!!"
She also said that people who have the opportunity to work in Hollywood should use their feelings of being victimized by the industry in the work that they are getting.
"This obsession our society has with identifying as victims in any circumstance is truly terrifying to me. Acting is an art form and a craft. Use your rage of feeling misunderstood or victimized by Hollywood and put it into work that you are so lucky to be getting!!!!"
Gourin added:
"Can we just start taking the win? F***. Life is unfair. It is the artist's DUTY to take the unfairness of life and put it into their work. End of story."
The ceramics artist also mentioned that she often uses her "complicated feelings" about the way "men" in her life have defined her in "the stage":
"The more dedicated to my craft I have become, the more liberating it has felt to let my art speak for me. (With the help of the playwright of course). After all, that is at the core, what being an actor is."
"I'd be thrilled to use my 'nepo baby' title (that I can't claim bc it isn't considered 'legitimate') if it meant I could get in the room and showcase my talent and craft."
Tessa Gourin also noted that "a lot more people" were engaging with her Instagram stories than normal and questioned if it was because of "the whole Jack Nicholson thing."
She also mentioned that she would use that engagement to promote her ceramics account and added a link to the corresponding profile in the IG story.
Tina Turner survived an abusive relationship with Ike and death of two sons
Tina Turner escaped an abusive relationship to find true love with her second husband, Erwin Bach.
The singer, who passed away aged 83 on Wednesday following an unspecified illness, was in a relationship with the record executive for 38 years. The pair married in 2013.
Tina had publicly praised Erwin for helping her find happiness after fleeing from her first marriage to husband, Ike Turner, which was plagued with physical and emotional abuse.
Ike first met Tina when she was a vulnerable teenager named Annie Mae Bullock. He renamed her Tina, and went on to form the musical duo, Ike & Tina Turner. According to Tina, he micromanaged her career, withheld her finances and beat her while she was pregnant.
After filing for divorce in 1978, Tina was left in debt and had her children to support. She went on to establish a successful solo career.
The songstress met Erwin in 1985 when he was working as an executive with EMI. The pair had an instant connection the moment they met, when he arrived to collect her from Düsseldorf airport.
She said Erwin had taught her how "to love without giving up who I am", and that he had never been intimidated by her fame or success. He even donated a kidney to her in April 2017, which saved her life.
Writing in her book, Happiness Becomes You: A Guide to Changing Your Life for Good, Tina said: "Falling in love with my husband, Erwin, was another exercise in leaving my comfort zone, of being open to the unexpected gifts that life has to offer.
"The day I first met Erwin, at an airport in Germany, I should have been too tired from my flight, too preoccupied with thoughts of my concert tour. But I did notice him, and I instantly felt an emotional connection.
"Even then, I could have ignored what I felt — I could have listened to the ghost voices in my head telling me that I didn't look good that day, or that I shouldn't be thinking about romance because it never ends well. Instead, I listened to my heart."
Tina's spokesman confirmed she died "peacefully" at home and added: "With her, the world loses a music legend and a role model. With her music and her inexhaustible vitality, Tina Turner thrilled millions of fans and inspired many artists of subsequent generations."
Tina Turner: legendary rock'n'roll singer dies aged 83
Tina Turner, the pioneering rock'n'roll star who became a pop behemoth in the 1980s, has died aged age of 83 after a long illness, her publicist has told the PA news agency.
Turner affirmed and amplified Black women's formative stake in rock'n'roll, defining that era of music to the extent that Mick Jagger admitted to taking inspiration from her high-kicking, energetic live performances for his stage persona. After two decades of working with her abusive husband, Ike Turner, she struck out alone and – after a few false starts – became one of the defining pop icons of the 1980s with the album Private Dancer. Her life was chronicled in three memoirs, a biopic, a jukebox musical, and in 2021, the acclaimed documentary film, Tina.
"Turner's musical character has always been a charged combination of mystery as well as light, melancholy mixed with a ferocious vitality that often flirted with danger," scholar Daphne A Brooks wrote for the Guardian in 2018.
Turner was born Anna Mae Bullock on 26 November 1939 and raised in Nutbush, Tennessee, where she recalled picking cotton with her family as a child. She sang in the tiny town's church choir, and as a teenager talked – or rather, sang – her way into Ike's band in St Louis: he had declined her request to join until he heard her seize the microphone during a Kings of Rhythm performance for a rendition of BB King's You Know I Love You.
She had suffered ill health in recent years, being diagnosed with intestinal cancer in 2016 and having a kidney transplant in 2017.
… as 2023 gathers pace, and you're joining us from Ghana, we have a small favour to ask. A new year means new opportunities, and we're hoping this year gives rise to some much-needed stability and progress. Whatever happens, the Guardian will be there, providing clarity and fearless, independent reporting from around the world, 24/7.
Times are tough, and we know not everyone is in a position to pay for news. But as we're reader-funded, we rely on the ongoing generosity of those who can afford it. This vital support means millions can continue to read reliable reporting on the events shaping our world. Will you invest in the Guardian this year?
Unlike many others, we have no billionaire owner, meaning we can fearlessly chase the truth and report it with integrity. 2023 will be no different; we will work with trademark determination and passion to bring you journalism that's always free from commercial or political interference. No one edits our editor or diverts our attention from what's most important.
With your support, we'll continue to keep Guardian journalism open and free for everyone to read. When access to information is made equal, greater numbers of people can understand global events and their impact on people and communities. Together, we can demand better from the powerful and fight for democracy.
Gerald Castillo, 'Saved By the Bell' and 'General Hospital' Actor, Dies at 90
Veteran stage and screen actor Gerald Castillo, who appeared in major TV series including "Saved By the Bell," "General Hospital," "Hill Street Blues," "M*A*S*H" and "Dallas," died May 4 at his home in Houston. He was 90.
Known for his work as Major Slater on "Saved by the Bell" and Judge Davis Wagner on "General Hospital," Castillo developed a following for his roles in the two series.
Born in Chicago on Dec. 23, 1932, Gerald studied acting and stage direction at the Goodman Theater. Following his education, he acted on stages all across the nation, performing opposite Sherman Hemsley, Rita Moreno, Jessica Tandy, James Broderick and Jeanne Crain. After performing with Hemsley, "The Jeffersons" star convinced Castillo to pursue a film and TV career in Los Angeles.
Castillo then appeared in several feature films, including "Delta Force II," "Kinjite," "Death Wish IV," "State of Emergency," "Through Naked Eyes," and "Above Suspicion."
Castillo also guest starred in several TV series, including "CSI: Crime Scene Investigation," "Hill Street Blues," "M*A*S*H," "Dallas," "Knots Landing," "The Jeffersons," "Night Court," "Simon and Simon" and many more.
The screen and stage performer also worked as a stage director at numerous theaters in Los Angeles and Ventura County, including the Santa Paula Theater.
Castillo's wife of 36 years, Danya Quinn-Castillo noted, "Many of the actors he worked with remember him as a charismatic and insightful director who would jingle the change in his pocket while he pondered a scene, then leap onto the stage to work out the blocking or whisper in an actor's ear. He was revered for providing the support and guidance that allowed actors to fully develop their characters on stage."
In 2012 he retired from acting and moved to Houston.
He was predeceased by his only child, daughter, Lisa Palmere.
Castillo is survived by his wife, grandson Brian Palmere, granddaughter Stephanie Palmere, great-grandson Allen Palmere and his twin brother, Bernie Castillo.