Why BTS deserves a Grammy
The K-pop band BTS has repeatedly been snubbed by the Recording Academy.
It's been a year since BTS lost their very first Grammys race, and their devoted fanbase, ARMY, continues to be perplexed. The bittersweet feeling of seeing the South Korean boy band finallybe recognized by the Recording Academy—both with a nomination for Best Pop Duo/Group Performance and an invitation to perform on the storied stage—but promptly skipped over for the actual trophy is still palpable among K-pop die-hards. The reaction is understandable: BTS has been lauded with critical and commercial success, including earning awards at other ceremonies, but has been steadfastly sidelined by the Grammys in the States.
You might be thinking: why? How could a mega-hit like "Dynamite" possibly lose? After all, the song was one of the best-selling, most downloaded singles of the year, and spent an astonishing 32 consecutive weeks on the Billboard Top 100. It was a cultural marvel too: a sonic burst of serotonin delivered in the middle of a global crisis; a much-needed reminder of the deeply emotional, transformative power of music—a touchstone pop track that got the world dancing and smiling again after many high-stress months of loss, isolation, and despair.
One theory points to the prevalent dismissal of the boy and girl bands that dominate the pop music landscape. "I think [the BTS snub] was due to the Grammys's attitude toward teen pop boy and/or girl bands," says Dr. Gyu Tag Lee, associate professor of cultural studies, media criticism, popular music, K-pop, and hallyu at George Mason University Korea. He points out that most globally successful teen pop bands, such as New Kids On The Block, the Backstreet Boys, NSYNC, the Spice Girls, and One Direction also did not win significant categories at the Grammys, though a couple have been nominated. "They're overlooked even though their social, cultural, and even political values are different."
Indeed, BTS is different. They've managed to evolve the boy band blueprint and become once-in-a-lifetime pop juggernauts, balancing artistic satisfaction with commercial success. A boy band, yes, but also a group of artists, songwriters, dancers, and producers whose addictive beats, brilliant lyrics, and honey-dipped vocals have created important music that takes on socio-economic disparity and complex Jungian psychology. They created multi-dimensional overlapping fictional lore that would feel at home in the MCU, all while contributing an estimated $5 billion annually to south Korea's GDP. "BTS—and K-pop in general—has been considered not the music of quality but a sort of 'bubblegum pop', or music only enjoyed by some die-hard fans," adds Lee. "However, winning a Grammy can prove that it's a significant cultural phenomenon with great music to boot."
And still there is another, rather unfortunate, theory about why the seemingly unstoppable "Dynamite" was passed over for a Grammy: racism.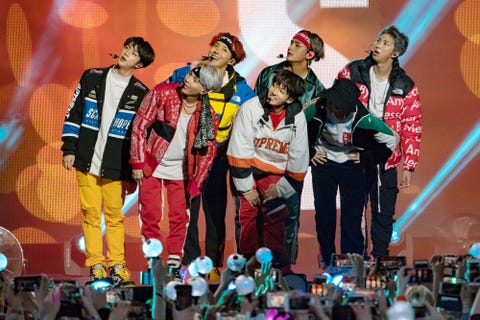 BTS performs on Jimmy Kimmel Live in 2017.
RB/Bauer-GriffinGetty Images
---
A History of Controversy
BTS's snub wasn't the first time the Grammys has been accused of being racist or xenophobic. The Recording Academy has a suspicious track record of passing over artists of color for their white counterparts. Throughout its 64-year-long run, only one hip-hop song has been awarded Song of the Year and only 10 Black artists have won Album of the Year.
There's also that troubling list of highly successful artists—Black artists, especially—who have never received a Grammy award that recirculates every year, a stark reminder of how far the accolades are from cultural relevance. Tupac Shakur, considered by many to be the greatest rapper of all time, earned six nominations but never won, and same with Notorious B.I.G. Snoop Dogg has 16 nominations but no wins; Run-D.M.C. was given a Lifetime Achievement Award in 2016 but no other statues; similarly, Jimi Hendrix received a Lifetime Achievement Award in 1992 but never won. For her part, Diana Ross was nominated 12 times (nearly every year from 1970 to 1982) without an award until her Lifetime Achievement Award in 2012. The Grammys considers itself to be a prestigious industry awards ceremony, but with so many blindspots, is it actually a barometer of greatness?
The Grammys considers itself to be a prestigious industry awards ceremony, but with so many blindspots, is it actually a barometer of greatness?
"Many awards shows have this problem, where the unconscious and conscious racial bias is so deeply ingrained in our culture that there has never been a moment of introspection," explains media executive and longtime entertainment journalist Geneva S. Thomas. "There's so much of an institutional, systemic foundation with the way that minorities have been set up to fail qualitatively in music. When we talk about the way music is measured, the metric that we use is sales. How do you 'sell' when you are being systematically held back? Whether the promotional budget isn't there, the label isn't investing in you, you aren't getting the same touring budget or music video budgets as other artists, or the radio won't play your songs because you're singing something that's considered different. That is the legacy and history of this business that has to be unpacked."
But streaming culture has democratized the industry a bit. "It makes those figurative walls tumble down so now there is almost inherent equity," Thomas says. "But when we think about the executives and power players who run the music business—the label bosses, the streaming bosses, the people who are behind the media institutions who get to say this is a good song or this is a bad song—we have to confront that. When will the racial reckoning affect the music business?"
Critics have also accused the Grammys of creating categories for Black performers and nominating artists there, instead of nominating them in the major categories like Artist or Album of the Year. In the last 10 years, there have been less than 20 non-white artists nominated for Album of the Year. "Of those," writes music scholar and MusicQology managing editor John Vilanova, "the only winner was Herbie Hancock in 2008. His album was a collection of covers of songs by the white folk artist Joni Mitchell."
John Legend echoed this sentiment when he told Entertainment Weekly, "the bottom line is, it's almost impossible for a Black artist to win Album of the Year. It's like, how many years do we have to see Beyoncé getting snubbed?" Indeed, Queen B holds the most impressive record for the number of Grammys won by a woman with a staggering 28 trophies, but has notably only won once in what's considered to be a "major" category: In 2009, "Single Ladies" was named Song of the Year. Nearly all of her other gramophones are in the R&B category. In one of the Grammys' most controversial moments, Beyoncé's groundbreaking 2016 album Lemonadewon Best Urban Contemporary Album, while Adele took home the coveted Album of the Year for 25.
"When we think about the impact that Beyoncé has had on global culture and that most of her Grammy wins are in the R&B category, it is so limiting," says Thomas. Yet, it's another institutional relic; according to Thomas, there is a "racial caste system with the way we classify music." She explains, "Historically, there would be a chart called 'Black Singles', and now we call that music 'urban'. For decades, that was the classification for Black music."
"When renowned creations by racialized artists are only honored in the categories coded for their respective races and systematically passed over time and time again for mainstream recognition, this belies in-built bias that precludes non-white excellence from being considered on the same terms as white excellence," Vilanova concludes. "Many well-meaning people often have a hard time understanding what systemic racism looks like—this is what systemic racism looks like."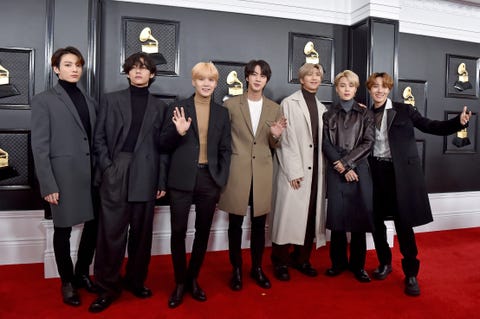 Jungkook, V, Suga, Jin, RM, Jimin, and J-Hope attend the 62nd Grammy Awards in 2020.
Axelle/Bauer-GriffinGetty Images
---
Backlash and Boycotts
The 2021 Grammy nominations were immediately mired in controversy when The Weeknd decided that enough was enough. After his record-breaking album After Hours and chart-topping song "Blinding Lights" didn't receive a single nomination, he publicly chastised the awards show, vowing to boycott the upcoming ceremony and all future shows by no longer performing or submitting his music for consideration. "The Grammys remain corrupt," he tweeted. "You owe me, my fans and the industry transparency…"
The Grammys remain corrupt. You owe me, my fans and the industry transparency…

— The Weeknd (@theweeknd) November 25, 2020
The Weeknd's boycott set off a chain reaction. Like clockwork, a number of high-profile musicians either withdrew their music or declared solidarity with the artist, including Nicki Minaj, Ariana Grande, Kid Cudi, Drake, Doja Cat, and Zayn Malik, who notably tweeted  his disdain: "@recordingacad are moving in inches and we need to move in miles. I'm keeping the pressure on & fighting for transparency & inclusion. We need to make sure we are honoring and celebrating 'creative excellence' of ALL. End the secret committees. Until then… #fuckthegrammys."
That siren call for transparency is exactly what the Grammys needs, says Thomas. "The Grammys are going through a huge rebrand—they're on a credibility tour, looking to recapture the respect and credibility with the artist community. And the consumers deserve to have some level of transparency if you want to also recapture the viewership."
---
Clout Chasing
One of the entertainment industry's cardinal sins—and one that ruffles fans' feathers the most—is clout chasing. When BTS lost in 2021, ARMY lobbed accusations at the Grammys for using BTS as eye candy  to increase viewership, trending #scammys for days after the broadcast. It's a tough accusation to prove, but an even harder one to argue against. Last year's Grammys marketing plan appeared to have been built on the bedrock of BTS and their legendarily devoted fan base. Their names and faces were splashed across ads in the weeks leading up to the event, and nearly every commercial break in the almost four-hour- long program promised "Coming up next: BTS!" But the thing is, they weren't coming up next; they were coming up last. The group's performance was the broadcast's finale, closing out the show altogether. What's more, BTS's nomination category wasn't even included in the live broadcast, but instead appeared in the internet streamed pre-show, which all but ensured that fans would be stuck to their screens for a number of hours, waiting for the big onscreen moment to come. The move was denounced by ARMY as a slick way of juicing the Grammys' viewership numbers—precisely the ones that have been plummeting for years.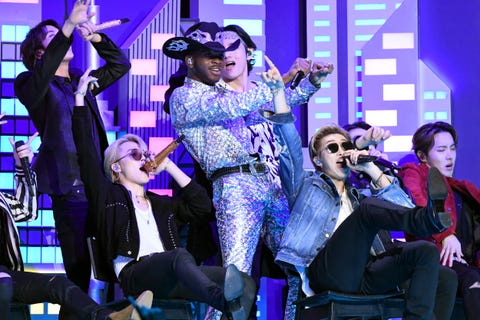 Lil Nas X performs with members of BTS at the 62nd Grammy Awards in 2020.
Jeff KravitzGetty Images
When the dust had settled, the 2021 Grammys ratings had declined 53 percent year over year to a reported 8.8 million viewers, per Statista. Meanwhile, a sleepy BTS live-streamed from Seoul after the show. The 17-minute video titled "It's Over!!!!!!!!!!!!!!" remains on South Korean live video streamer V-Live with over14 million views (and counting).
"That's a marketing and promotional tactic that has been leveraged by the Grammys and many other awards shows for decades," Thomas explains, confirming ARMY's theory.
Though she's never spoken publicly about it, Beyoncé seems to have become somewhat of an expert in avoiding clout-chasing award shows. In 2021, she declined to perform at the Grammys and, up until the day before the broadcast, the Academy confirmed her as a no-show, even though she led the night's nominations with nine nods. "It's unfortunate, because she's such a big part of the Recording Academy," Grammys CEO Harvey Mason Jr. said at the time. "We absolutely wish we had her onstage."
Plot twist: Beyoncé and JAY-Z did attend. As Megan Thee Stallion performed "Savage", the Grammys cut to the audience to reveal Bey had come to support her collaborator after all. One has to wonder if the move was a strategic one to walk the line of supporting the Texas rapper but neutering the Grammys's marketing department from using her and her husband as commercial pulls to lure in viewers.
It should be noted that JAY-Z famously boycotted the Grammys for years, and even referenced his disdain at losing all eight of his nominations for his critically lauded album 4:44 in the lyrics of 2018's "Apeshit": "Tell the Grammys fuck that 0-for-8 shit / Have you ever seen the crowd goin' apeshit?" He ultimately returned to support his wife, Beyoncé, explaining, "I didn't come back until 2004 when a beautiful, young lady whom I love dearly had a solo album and I realized, 'Man, art is super subjective and everyone is going their best, and the Academy, they're human like we are and they're voting on things they like and it's subjective," according to ABC.
---
Shades of Optimism
Thankfully, there are reasons to be hopeful that the Recording Academy is finally starting to listen to critics and enact change.
In 2020, the Grammys removed the word "urban" from category titles—a move that seemed like an almost direct response from Tyler the Creator's criticism when he took home the award for Best Rap Album, despite 2019's IGOR being a departure from his previous records. "It sucks that whenever we—and I mean guys who look like me—do anything that's genre-bending or anything, they always put it in a rap or urban category," he said, according to Variety. "And I don't like that 'urban' word," he added.
Another huge reason for optimism: the Recording Academy's leadership has transformed to include proven advocates. In 2020, music producer Harvey Mason Jr. became the first Black man to hold the title of CEO. The announcement came weeks after the organization voted to remove anonymous nomination review committees—the incredibly controversial and allegedly corrupt juries that determined the considered artists for key awards. In 2021, Valeisha Butterfield Jones was promoted from her appointment as the Grammys first-ever Chief Diversity & Inclusion Officer to become co-president, alongside Panos A. Panay.
Those strategic moves forecast a seismic shift toward positive change, says Thomas. "I believe [the new hires] will drive impact, but that institution has to support them. We have to wrap our arms around these change makers. Their goals have to be pushed through and supported."
---
Closing Thoughts
With several hours left to speculate over what BTS's Grammys fate will be (the group is nominated once again for Best Pop Duo/Group Performance—this time for their single "Butter"), the best fans can do is proceed with trepidation.
If BTS does win, it would signal a historic and cultural victory that looms large over the industry. "A win would show that the Grammys is finally opening its doors to non-English based and non-Western music, and recognizes it as something important and meaningful," says Lee.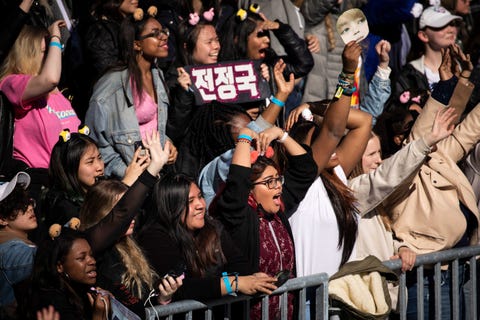 Fans cheer for BTS at Good Morning America's summer concert series in New York City's Central Park in 2019.
Drew AngererGetty Images
And if they don't, well, the group's success stands on its own. As BTS frontman RM told USA Today ahead of last year's show, "There are so many blessings we could've gotten for these eight years, but I guess for the whole journey the best luck we ever had is that we all have you guys all over the world," he said, referring to BTS' fans. "So please don't forget that, whether we get the Grammy or not, we already got what we wanted, and we got you, so that means we got everything."
In fact, despite the results, BTS already has an after-party planned. They'll be with ARMY for a four-night residency in Las Vegas, headlining the Allegiant Stadium, a 65,000-seat capacity venue they sold out in seconds during the pre-sale. In what feels like an extra flex, overflow fans will watch the live stream next door at the MGM Grand Garden Arena—the same venue where the Grammys will be held.
The concerts are poised to be a victory lap for BTS but, if history repeats itself and the group is snubbed yet again, rest assured they'll do what they always do: turn that setback into motivation to forge their next masterpiece, and recruit their doubters into their ARMY. Smooth like butter.
credit : Katie Donbavand, Elle.com
Russell Crowe Will Next Appear In The MCU As Zeus In Thor: Love and Thunder
Fans of actor Russell Crowe can next see the actor as he joins the Marvel Cinematic Universe in Thor: Love and Thunder. Crowe will join the pantheon of the Marvel gods, starring as Zeus alongside Chris Hemsworth as the Asgardian, Thor.
"I never thought I'd see the day where Russell would appear on screen with hints at Gladiator imagery, yet with a wink-totally self-deprecating," Hemsworth said of Crowe's role in the Marvel movie. "He didn't hold back. I'm such a fan. I have been since I first started acting. There's such a weight and a seriousness to his performances and to him, as an individual, from afar. But meeting him, he has a great sense of humor and did whatever Taika asked on set, which was mind-blowing. And it was really fun to play with the mythology, going from Norse to Greek mythology – Taika pulls all these worlds together."
Thor: Love and Thunder finds the Asgardian and former Avenger embarking on a journey unlike anything he's ever faced — a quest for inner peace. However, his retirement gets interrupted by Gorr the God Butcher, a galactic killer who seeks the extinction of the gods. To combat the threat, Thor enlists the help of King Valkyrie, Korg and ex-girlfriend Jane Foster, who — to his surprise — inexplicably wields his magical hammer. Together, they set out on a harrowing cosmic adventure to uncover the mystery of the God Butcher's vengeance.
Directed by Taika Waititi, Thor: Love and Thunder is scheduled to be released on July 8, 2022, as part of Phase Four of the MCU.
Russell Crowe And Ray Winstone Throw Punches In Boxing Biopic Prizefighter
The first trailer for Prizefighter has Russell Crowe, Ray Winstone, and Matt Hookings lead this tale of the birth of boxing. Released courtesy of Empire, Prizefighter is scheduled to land on Prime Video next month, and tells the tragic true story of James "Jem" Belcher, an English bare-knuckle prize-fighter. You can watch the trailer for Prizefighter below.
Directed by Daniel Graham, Prizefighter is written by Matt Hookings, who also stars as Jem Belcher. The movie will explore the life of Jem Belcher, a bare-knuckle prize-fighter who became the Champion of All England from 1800 to 1805. As well as being the youngest ever world champion, and bringing boxing more into the mainstream, Belcher was beset with all manner of tragedy during his sadly short life, and was left blind at 22 and dead by the age of 30.
Starring alongside newcomer Matt Hookings in the lead, Prizefighter features an all-star cast that includes Academy Award winner Russell Crowe as Belcher's grandfather, Jack Slack, with Black Widow star Ray Winstoneon board as Belcher's trainer, Bill Warr. The rest of the supporting cast is comprised of Marton Csokas, Jodhi May, Steven Berkoff, Julian Glover, and Bill Moseley.
Both Russell Crowe and Ray Winstone are no strangers to the boxing game, with the former having starred as heavyweight boxing champion James J. Braddock in director Ron Howard's Cinderella Man, while the latter boxed in real-life during his youth, winning 80 out of 88 bouts.
Prizefighter is streaming on Prime Video from 22 July, and is sure to be a powerful biopic, no doubt heightened by performances from Crowe and Winstone, and telling a lesser-known story that deserves to be told.
Tom Cruise Explains Why He Turned Down Role Of Iron Man
Actor Tom Cruise has long enjoyed a history of playing action heroes but never a superhero. Still, many of characters come across as indestructible to the point where they might as well be a superhero. Most recently, Cruise has revived his popular Ethan Hunt role in Mission Impossible franchise and is flying high with enormous box office success from Top Gun: Maverick. The soon-to-be 60-year-old star has revealed how he came close to playing Tony Stark's Iron Manin the Marvel Cinematic Universe. Of course, the part went to Robert Downey Jr. who made the character and its armored body his own.
Prior to the release of 2008's Iron Man, Cruise was offered the opportunity to play Tony Stark but turned it down. He has opened up as to why he turned it down. As someone who has a reputation for thorough work, performing his own stunts, etc., one of the actor's priorities appears to be wanting control over the project.
Tom Cruise Proves He is Still Popular But Hasn't Ruled Out Superhero Films
Paramount Pictures
Even Cruise admits that Downey has become so fused with Tony Stark that it is hard to imagine anyone else in the role. As for when he was first approached to star as Iron Man and why he declined the part, Cruise explained:
"[Marvel Studios] came to me at a certain time and, when I do something, I wanna do it right. If I commit to something, it has to be done in a way that I know it's gonna be something special. And as it was lining up, it just didn't feel to me like it was gonna work. I need to be able to make decisions and make the film as great as it can be, it just didn't go down that road that way."
In another interview, Cruise confessed he believes the role of Tony Stark was perfect for Robert Downey Jr. He said,
"Not close and I love Robert Downey Jr. I can't imagine anyone else in that role and I think it's perfect for him."
When it comes to allowing fans seeing him play a superhero at some point in time, the actor does not rule it out but does say the project would have to meet his standards, stating:
"It's what's the story? Does it interest me?"
Whether Cruise joins the MCU or DCEU remains to be seen. Meanwhile, the actor seems to enjoy playing a hero of the mission impossible kind.