Why BTS deserves a Grammy
The K-pop band BTS has repeatedly been snubbed by the Recording Academy.
It's been a year since BTS lost their very first Grammys race, and their devoted fanbase, ARMY, continues to be perplexed. The bittersweet feeling of seeing the South Korean boy band finallybe recognized by the Recording Academy—both with a nomination for Best Pop Duo/Group Performance and an invitation to perform on the storied stage—but promptly skipped over for the actual trophy is still palpable among K-pop die-hards. The reaction is understandable: BTS has been lauded with critical and commercial success, including earning awards at other ceremonies, but has been steadfastly sidelined by the Grammys in the States.
You might be thinking: why? How could a mega-hit like "Dynamite" possibly lose? After all, the song was one of the best-selling, most downloaded singles of the year, and spent an astonishing 32 consecutive weeks on the Billboard Top 100. It was a cultural marvel too: a sonic burst of serotonin delivered in the middle of a global crisis; a much-needed reminder of the deeply emotional, transformative power of music—a touchstone pop track that got the world dancing and smiling again after many high-stress months of loss, isolation, and despair.
One theory points to the prevalent dismissal of the boy and girl bands that dominate the pop music landscape. "I think [the BTS snub] was due to the Grammys's attitude toward teen pop boy and/or girl bands," says Dr. Gyu Tag Lee, associate professor of cultural studies, media criticism, popular music, K-pop, and hallyu at George Mason University Korea. He points out that most globally successful teen pop bands, such as New Kids On The Block, the Backstreet Boys, NSYNC, the Spice Girls, and One Direction also did not win significant categories at the Grammys, though a couple have been nominated. "They're overlooked even though their social, cultural, and even political values are different."
Indeed, BTS is different. They've managed to evolve the boy band blueprint and become once-in-a-lifetime pop juggernauts, balancing artistic satisfaction with commercial success. A boy band, yes, but also a group of artists, songwriters, dancers, and producers whose addictive beats, brilliant lyrics, and honey-dipped vocals have created important music that takes on socio-economic disparity and complex Jungian psychology. They created multi-dimensional overlapping fictional lore that would feel at home in the MCU, all while contributing an estimated $5 billion annually to south Korea's GDP. "BTS—and K-pop in general—has been considered not the music of quality but a sort of 'bubblegum pop', or music only enjoyed by some die-hard fans," adds Lee. "However, winning a Grammy can prove that it's a significant cultural phenomenon with great music to boot."
And still there is another, rather unfortunate, theory about why the seemingly unstoppable "Dynamite" was passed over for a Grammy: racism.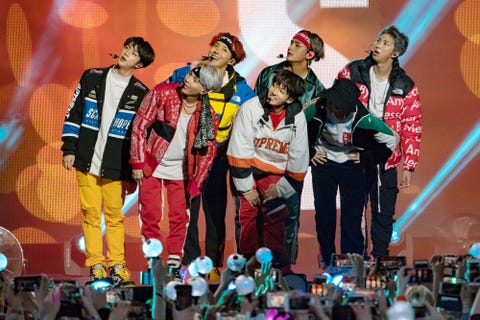 BTS performs on Jimmy Kimmel Live in 2017.
RB/Bauer-GriffinGetty Images
---
A History of Controversy
BTS's snub wasn't the first time the Grammys has been accused of being racist or xenophobic. The Recording Academy has a suspicious track record of passing over artists of color for their white counterparts. Throughout its 64-year-long run, only one hip-hop song has been awarded Song of the Year and only 10 Black artists have won Album of the Year.
There's also that troubling list of highly successful artists—Black artists, especially—who have never received a Grammy award that recirculates every year, a stark reminder of how far the accolades are from cultural relevance. Tupac Shakur, considered by many to be the greatest rapper of all time, earned six nominations but never won, and same with Notorious B.I.G. Snoop Dogg has 16 nominations but no wins; Run-D.M.C. was given a Lifetime Achievement Award in 2016 but no other statues; similarly, Jimi Hendrix received a Lifetime Achievement Award in 1992 but never won. For her part, Diana Ross was nominated 12 times (nearly every year from 1970 to 1982) without an award until her Lifetime Achievement Award in 2012. The Grammys considers itself to be a prestigious industry awards ceremony, but with so many blindspots, is it actually a barometer of greatness?
The Grammys considers itself to be a prestigious industry awards ceremony, but with so many blindspots, is it actually a barometer of greatness?
"Many awards shows have this problem, where the unconscious and conscious racial bias is so deeply ingrained in our culture that there has never been a moment of introspection," explains media executive and longtime entertainment journalist Geneva S. Thomas. "There's so much of an institutional, systemic foundation with the way that minorities have been set up to fail qualitatively in music. When we talk about the way music is measured, the metric that we use is sales. How do you 'sell' when you are being systematically held back? Whether the promotional budget isn't there, the label isn't investing in you, you aren't getting the same touring budget or music video budgets as other artists, or the radio won't play your songs because you're singing something that's considered different. That is the legacy and history of this business that has to be unpacked."
But streaming culture has democratized the industry a bit. "It makes those figurative walls tumble down so now there is almost inherent equity," Thomas says. "But when we think about the executives and power players who run the music business—the label bosses, the streaming bosses, the people who are behind the media institutions who get to say this is a good song or this is a bad song—we have to confront that. When will the racial reckoning affect the music business?"
Critics have also accused the Grammys of creating categories for Black performers and nominating artists there, instead of nominating them in the major categories like Artist or Album of the Year. In the last 10 years, there have been less than 20 non-white artists nominated for Album of the Year. "Of those," writes music scholar and MusicQology managing editor John Vilanova, "the only winner was Herbie Hancock in 2008. His album was a collection of covers of songs by the white folk artist Joni Mitchell."
John Legend echoed this sentiment when he told Entertainment Weekly, "the bottom line is, it's almost impossible for a Black artist to win Album of the Year. It's like, how many years do we have to see Beyoncé getting snubbed?" Indeed, Queen B holds the most impressive record for the number of Grammys won by a woman with a staggering 28 trophies, but has notably only won once in what's considered to be a "major" category: In 2009, "Single Ladies" was named Song of the Year. Nearly all of her other gramophones are in the R&B category. In one of the Grammys' most controversial moments, Beyoncé's groundbreaking 2016 album Lemonadewon Best Urban Contemporary Album, while Adele took home the coveted Album of the Year for 25.
"When we think about the impact that Beyoncé has had on global culture and that most of her Grammy wins are in the R&B category, it is so limiting," says Thomas. Yet, it's another institutional relic; according to Thomas, there is a "racial caste system with the way we classify music." She explains, "Historically, there would be a chart called 'Black Singles', and now we call that music 'urban'. For decades, that was the classification for Black music."
"When renowned creations by racialized artists are only honored in the categories coded for their respective races and systematically passed over time and time again for mainstream recognition, this belies in-built bias that precludes non-white excellence from being considered on the same terms as white excellence," Vilanova concludes. "Many well-meaning people often have a hard time understanding what systemic racism looks like—this is what systemic racism looks like."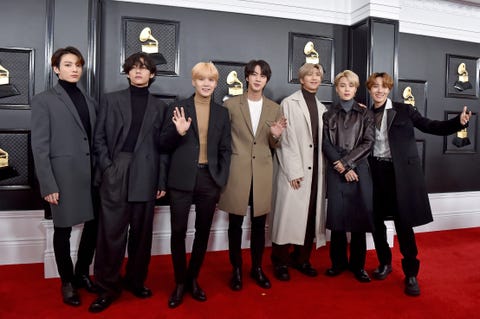 Jungkook, V, Suga, Jin, RM, Jimin, and J-Hope attend the 62nd Grammy Awards in 2020.
Axelle/Bauer-GriffinGetty Images
---
Backlash and Boycotts
The 2021 Grammy nominations were immediately mired in controversy when The Weeknd decided that enough was enough. After his record-breaking album After Hours and chart-topping song "Blinding Lights" didn't receive a single nomination, he publicly chastised the awards show, vowing to boycott the upcoming ceremony and all future shows by no longer performing or submitting his music for consideration. "The Grammys remain corrupt," he tweeted. "You owe me, my fans and the industry transparency…"
The Grammys remain corrupt. You owe me, my fans and the industry transparency…

— The Weeknd (@theweeknd) November 25, 2020
The Weeknd's boycott set off a chain reaction. Like clockwork, a number of high-profile musicians either withdrew their music or declared solidarity with the artist, including Nicki Minaj, Ariana Grande, Kid Cudi, Drake, Doja Cat, and Zayn Malik, who notably tweeted  his disdain: "@recordingacad are moving in inches and we need to move in miles. I'm keeping the pressure on & fighting for transparency & inclusion. We need to make sure we are honoring and celebrating 'creative excellence' of ALL. End the secret committees. Until then… #fuckthegrammys."
That siren call for transparency is exactly what the Grammys needs, says Thomas. "The Grammys are going through a huge rebrand—they're on a credibility tour, looking to recapture the respect and credibility with the artist community. And the consumers deserve to have some level of transparency if you want to also recapture the viewership."
---
Clout Chasing
One of the entertainment industry's cardinal sins—and one that ruffles fans' feathers the most—is clout chasing. When BTS lost in 2021, ARMY lobbed accusations at the Grammys for using BTS as eye candy  to increase viewership, trending #scammys for days after the broadcast. It's a tough accusation to prove, but an even harder one to argue against. Last year's Grammys marketing plan appeared to have been built on the bedrock of BTS and their legendarily devoted fan base. Their names and faces were splashed across ads in the weeks leading up to the event, and nearly every commercial break in the almost four-hour- long program promised "Coming up next: BTS!" But the thing is, they weren't coming up next; they were coming up last. The group's performance was the broadcast's finale, closing out the show altogether. What's more, BTS's nomination category wasn't even included in the live broadcast, but instead appeared in the internet streamed pre-show, which all but ensured that fans would be stuck to their screens for a number of hours, waiting for the big onscreen moment to come. The move was denounced by ARMY as a slick way of juicing the Grammys' viewership numbers—precisely the ones that have been plummeting for years.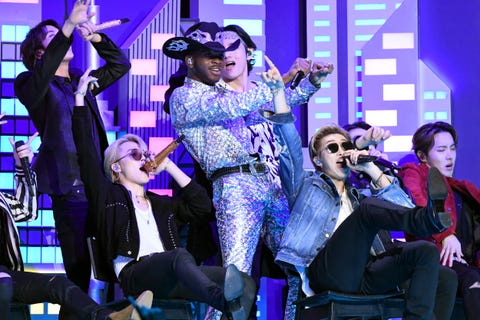 Lil Nas X performs with members of BTS at the 62nd Grammy Awards in 2020.
Jeff KravitzGetty Images
When the dust had settled, the 2021 Grammys ratings had declined 53 percent year over year to a reported 8.8 million viewers, per Statista. Meanwhile, a sleepy BTS live-streamed from Seoul after the show. The 17-minute video titled "It's Over!!!!!!!!!!!!!!" remains on South Korean live video streamer V-Live with over14 million views (and counting).
"That's a marketing and promotional tactic that has been leveraged by the Grammys and many other awards shows for decades," Thomas explains, confirming ARMY's theory.
Though she's never spoken publicly about it, Beyoncé seems to have become somewhat of an expert in avoiding clout-chasing award shows. In 2021, she declined to perform at the Grammys and, up until the day before the broadcast, the Academy confirmed her as a no-show, even though she led the night's nominations with nine nods. "It's unfortunate, because she's such a big part of the Recording Academy," Grammys CEO Harvey Mason Jr. said at the time. "We absolutely wish we had her onstage."
Plot twist: Beyoncé and JAY-Z did attend. As Megan Thee Stallion performed "Savage", the Grammys cut to the audience to reveal Bey had come to support her collaborator after all. One has to wonder if the move was a strategic one to walk the line of supporting the Texas rapper but neutering the Grammys's marketing department from using her and her husband as commercial pulls to lure in viewers.
It should be noted that JAY-Z famously boycotted the Grammys for years, and even referenced his disdain at losing all eight of his nominations for his critically lauded album 4:44 in the lyrics of 2018's "Apeshit": "Tell the Grammys fuck that 0-for-8 shit / Have you ever seen the crowd goin' apeshit?" He ultimately returned to support his wife, Beyoncé, explaining, "I didn't come back until 2004 when a beautiful, young lady whom I love dearly had a solo album and I realized, 'Man, art is super subjective and everyone is going their best, and the Academy, they're human like we are and they're voting on things they like and it's subjective," according to ABC.
---
Shades of Optimism
Thankfully, there are reasons to be hopeful that the Recording Academy is finally starting to listen to critics and enact change.
In 2020, the Grammys removed the word "urban" from category titles—a move that seemed like an almost direct response from Tyler the Creator's criticism when he took home the award for Best Rap Album, despite 2019's IGOR being a departure from his previous records. "It sucks that whenever we—and I mean guys who look like me—do anything that's genre-bending or anything, they always put it in a rap or urban category," he said, according to Variety. "And I don't like that 'urban' word," he added.
Another huge reason for optimism: the Recording Academy's leadership has transformed to include proven advocates. In 2020, music producer Harvey Mason Jr. became the first Black man to hold the title of CEO. The announcement came weeks after the organization voted to remove anonymous nomination review committees—the incredibly controversial and allegedly corrupt juries that determined the considered artists for key awards. In 2021, Valeisha Butterfield Jones was promoted from her appointment as the Grammys first-ever Chief Diversity & Inclusion Officer to become co-president, alongside Panos A. Panay.
Those strategic moves forecast a seismic shift toward positive change, says Thomas. "I believe [the new hires] will drive impact, but that institution has to support them. We have to wrap our arms around these change makers. Their goals have to be pushed through and supported."
---
Closing Thoughts
With several hours left to speculate over what BTS's Grammys fate will be (the group is nominated once again for Best Pop Duo/Group Performance—this time for their single "Butter"), the best fans can do is proceed with trepidation.
If BTS does win, it would signal a historic and cultural victory that looms large over the industry. "A win would show that the Grammys is finally opening its doors to non-English based and non-Western music, and recognizes it as something important and meaningful," says Lee.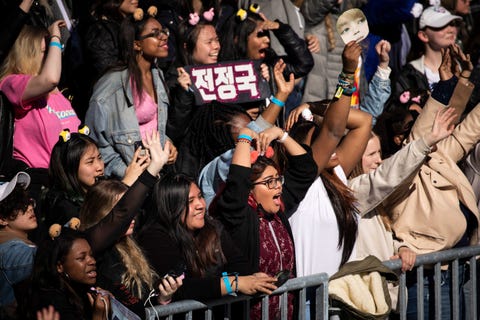 Fans cheer for BTS at Good Morning America's summer concert series in New York City's Central Park in 2019.
Drew AngererGetty Images
And if they don't, well, the group's success stands on its own. As BTS frontman RM told USA Today ahead of last year's show, "There are so many blessings we could've gotten for these eight years, but I guess for the whole journey the best luck we ever had is that we all have you guys all over the world," he said, referring to BTS' fans. "So please don't forget that, whether we get the Grammy or not, we already got what we wanted, and we got you, so that means we got everything."
In fact, despite the results, BTS already has an after-party planned. They'll be with ARMY for a four-night residency in Las Vegas, headlining the Allegiant Stadium, a 65,000-seat capacity venue they sold out in seconds during the pre-sale. In what feels like an extra flex, overflow fans will watch the live stream next door at the MGM Grand Garden Arena—the same venue where the Grammys will be held.
The concerts are poised to be a victory lap for BTS but, if history repeats itself and the group is snubbed yet again, rest assured they'll do what they always do: turn that setback into motivation to forge their next masterpiece, and recruit their doubters into their ARMY. Smooth like butter.
credit : Katie Donbavand, Elle.com
These 7 K-dramas Will Make You Need Deliverance
Korean writers are very popular for their romantic movies, but their horror dramas are so criminally underrated — and to be honest, I get why. The writers wrap them up like nice, funny, bright films And until you find yourself paralysed on your seat, your brain won't register that you've been watching horror. Watch all seven of these at your own risk oh.
All of Us Are Dead (2022)
All of Us Are Dead is not a conventional zombie movie. It is unusually bright for a show with that many gory scenes and multiple jumpscares. It follows a group of secondary school students stuck in school which becomes ground zero for a violent zombie apocalypse.
Every time these kids fight for their lives against the super strong and constantly mutating zombies, your heart will be stuck in your mouth. But that's what you like, right? Enjoy.
The Cursed (2020) 
The Cursed revolves around a successful IT company called Forest. Usually, rich companies like these in K-drama just means someone is killing all the owners' enemies like ants. But the chairman of Forest, Jin Jong-Hyun decided to take it up a notch by using diabolical means. Since it's one day for the thief and another for the owner, naturally, Forest gets involved in a huge case and a reporter,  Im Jin-Hee risks her life to unravel the mystery behind the case.
Goedam (2020) 
Goedam is a Netflix horror anthology series comprising a collection of short dramas, with eight episodes in total.
Each episode follows a new plot with different characters, and they'll all make you do the sign the cross if you watch them late at night. Careful though, episodes one, two and six may give you heart attacks.
Sweet Home (2020) 
Sweet Home is a sublime balance of horror and thriller. It's also one of the most popular Korean horror dramas on Netflix. The main character Cha Hyun-soo is a secondary school student who becomes an orphan overnight after his family dies in a car accident. Naturally, he wants to commit suicide and moves to an odd building where he can do that undisturbed, but then strange things start happening among the residents. He somehow finds himself fighting for his life amongst other residents battling humans who have been turned into monsters. It's survival of the fittest in these streets and a gripping take on the monster genre.
Strangers From Hell (2019) 
The moment a TV series starts in a cheap-ass residential area, you know to expect the worst.
Desperate for a job, Yoon Jong-woo moves to Seoul from the comfort of his home in the countryside. He soon realises that he can't afford to live in Seoul, so he moves to Goshiwon. The amenities and living conditions of the building he chooses are horrible, but he tries to endure till he gets a job.
Even worse than the building are his neighbours, each with their own secrets and eccentric behaviours. Across the 10 episodes, we learn exactly what those secrets are. Strangers From Hell isn't scary, but the psychological thriller will leave you on the edge of your seat. Stay alert while watching this; nothing will prepare you for the end.
Kingdom (2019) 
For fans of dramas set in the Joseon era, you'd be amused to see how Kingdom weaves historical drama elements with a zombie apocalypse.
This drama follows Lee Chang, the crown prince, who discovers the outbreak of a mysterious disease. He goes on a mission to find the royal physician who might know something about the outbreak. But instead, he finds someone who worked alongside the royal physician.
The tension in this drama comes from watching people fight for their lives in an era with medieval weaponry.
Nightmare High (2016) 
Set in a private high school in Korea, Nightmare Highrevolves around several unexplained incidents that occur after Han Bong-goo, the new homeroom teacher, shows up.
Usually, a teacher is a nightmare because they're giving too many assignments, but this man chooses a different way to terrorise his students, bringing all their nightmares to life, and kids begin to go missing. But no one notices until the class president points it out. The most unsettling experience for me was seeing a group of high school students obediently listen to a teacher. In what world is it possible to have such control over teenagers?
You may also like: The 7 K Drama Shows That Should Be On Your Watchlist 
Amber Heard resurfaces for the first time since her Johnny Depp legal catastrophe
Amber Heard has resurfaced in Spain after having gone MIA for a few months.
The "Aquaman" actress and her 1-year-old daughter, Oonagh Paige, were photographed in Palma de Mallorca on Friday while spending time with her girlfriend, Bianca Butti.
In multiple photos, Heard can be seen playing with her daughter on a swing set, walking with her and a group of friends and enjoying the European city.
It's unclear how long she will be staying in Europe.
Heard, 36, looked happy surrounded by friends and her daughter, whom she welcomed via surrogate in July 2021, despite losing to Johnny Depp in their defamation trial in June. As a result, Heard owes her ex-husband millions of dollars.
In total, the jury ruled that the "Danish Girl" actress had to pay the "Pirates of the Caribbean" star, 59, $10 million in compensatory damages plus $350,000 in punitive damages. But after the counter-lawsuit she filed, in which Depp was ordered to pay $2 million, and the state of Virginia's cap on damages, Heard was left to pay $5 million — money she says she does not have.
Watch actors playing Johnny Depp and Amber Heard testify about 'insane, humiliating' trial in movie re-creation
Amber Heard's emotional return to the witness stand is recreated in a preview clip of Hot Take: The Depp/Heard Trial.
Megan Davis portrays the Aquaman actress in director Sara Lohman's retelling of the defamation trial, which concluded four months ago in Johnny Depp's favor. In a teaser shared by Tubi ahead of the movie's Friday premiere (above), Davis's Heard recounts the agony of having to relive her trauma during the trial, interspersed with clips of actor Mark Hapka's own recreation of Depp's testimony.
"I have the right to tell the truth," Davis says. "I have the right to say what happened to me. I hope I get my voice back. It's all that I want." Hapka's Depp later adds, "This has not been easy for any of us. No matter what happens, I did tell the truth and I have spoken up [on] what I've been carrying on my back for six years." The clip also features a peek at Melissa Marty as Depp's lawyer, Camille Vasquez, and Mary Carrig as Heard's attorney, Elaine Bredehoft.
EW has reached out to reps for Depp and Heard for comment on the film.
Per EW's first look at the trailer earlier this week, Hot Take will feature familiar touchstones from the trial, including Depp's courtroom doodles, the intense scrutiny of Heard on social media, and references to James Franco, who was famously included on Heard's witness list but never called to testify. Brittany Clemons, Angie Day, Marianne C. Wunch, Hannah Pillemer, and Fernando Szew executive produced, while Autumn Federici and Kristifor Cvijetic also produced.
Following a six-week trial in June, a seven-person jury determined that Heard intentionally and maliciously defamed Depp when she wrote a 2018 Washington Post op-ed identifying herself as a public figure representing domestic abuse. Heard's team filed to appeal the verdict in July after a motion for a mistrial was denied.
A spokesperson for Depp said in response, "The jury listened to the extensive evidence presented during the six-week trial and came to a clear and unanimous verdict that the defendant herself defamed Mr. Depp in multiple instances. We remain confident in our case and that this verdict will stand."