Zambia Beat Malawi In Extra Time To Be Crowned Cosafa Cup Champions
Zambia have been crowned the 2022 Cosafa Cup champions after they claimed a hard-fought 1-0 victory over Namibia after extra time at Moses Mabhida Stadium in Durban on Sunday night.
Albert Kangwanda came off the bench to give their sixth Cosafa Cup title when he found the back of the net after 112 minutes of play.
Kangwanda launched a missile shot towards the Namibian goal and hit the woodwork and the ball rebounded off Edward Maova and went in.
The first half had no goals and neither team was able to take total control of the game at the iconic 2010 Fifa World Cup venue.
Chipolopolo tried to up the tempo in search of a goal in the second half, but their attempts weren't successful as the game was forced to extra time.
Zambia have joined Zimbabwe, who were not part of the tournament this year, as the most decorated sides in the competition as they have won it six times.
SA have won it five times and they missed a chance to make it six, and defend their 2021 trophy, when they lost to Mozambique in the quarterfinals.
Earlier in the day at Moses Mabhida Senegal won the battle for third place by beating Mozambique in the third/fourth playoffs.
The two sides had played to a 1-1 draw before heading to a penalty shoot-out.
All the goals were scored in the second half with the invited guests, Senegal, opening the scoring through a Jean Diouf penalty on 78 minutes.
Mozambique's goal was scored by Pachoio Lau Há King in referee's optional time, forcing the game to penalties where Senegal claimed a 4-2 victory.
Early on the day at Sugar Ray Xulu Stadium the youthful Bafana Bafana — an effective SA U-23 combination — defeated 10-man Botswana 2-1 to win the Plate final. The Plate trophy is contested by the teams that knocked out in the quarterfinals.
'I haven't been the same since my wife of 17 years cheated' – Totti
Former Italy international Francesco Totti has revealed that he fell into depression after he found out his wife, whom he had been married to for 17 years, was cheating on him.
The Roma legend was married to Ilary Blasi but their marriage collapsed after the footballer announced his retirement.
Totti and Blasi tied the knot in 2005 and are blessed with three children, but the pair decided to split in July last year.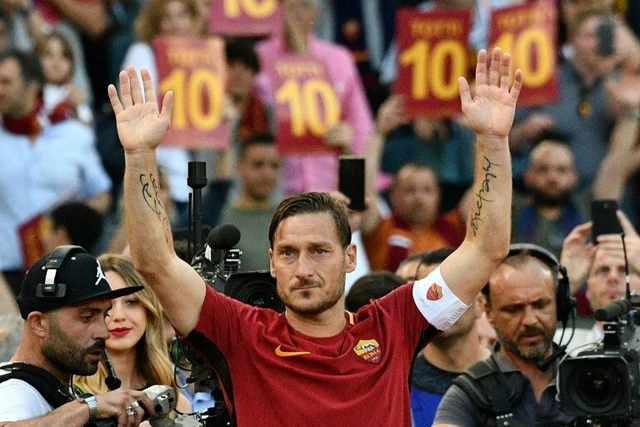 The 46-year-old said he struggled to cope after his retirement and further revealed that his father died after contracting Coronavirus.
According to Totti, he hasn't been himself since Covid killed his father and his marriage also collapsed after his wife cheated.
"I have lived through a difficult period, first because I stopped playing and then my father died due to Covid," Totti said, as quoted by Marca.
"I also had a strong Covid (illness) for 15 days. However, my wife, when I needed her most, was not there. It is not true that I was the first to betray. I said I was not going to speak and I did not, but I have read too many hoaxes in recent weeks. Some have even made my children suffer."
Girls will never be satisfied 💔

— raymonholland. (@ibrahimramon10) September 15, 2022
He added: "In September of last year the rumours began to reach me: "look, Ilary has another one. Indeed, more than one.
"I had never done it in twenty years, nor had she ever done it with me. But when I received warnings from different people, whom I trust, I began to suspect.
"I looked at her cell phone and I saw that there was a third person, who acted as an intermediary between Ilary and another. Here was the evidence (of the affair). The facts. And that led me to depression. I could no longer pretend that nothing was happening, but it wasn't me anymore, it was someone else. I got out thanks to Noemi."
Totti retired in 2017 following a trophy-laden career that lasted over two decades.
Tiger Woods ex girlfriend Erica Herman is suing him for $30 million after he kicked her out his house
Golf legend Tiger Woods' now-ex, Erica Herman has allegedly sued him and his Jupiter Island Irrevocable Homestead Trust for violating Florida's Residential Landlord Tenant Act. Her lawsuit was initially filed in October 2022, usmagazine reported.
Wood, 47, tricked Herman, 38, into thinking he was taking her on vacation, but instead dropped her off at the airport and locked her out the house.
Herman's claim
Herman says she has lived at Woods' residence since he purchased the Florida property and "performed valuable services at the request of [Tiger's] agents," which was part of an "oral tenancy agreement" that allowed her to live there. Herman further.., Woods had engaged in premeditated "prohibited practices" to get her to leave the mansion upon their recent split.
The Court Document
In the filings, Herman alleges Woods used 'trickery' and repeatedly refused to let her back into the 12-acre grounds which, she says, violates the oral tenancy agreement and Florida law.
Herman also claims that Woods then removed her personal belongings from the house and 'took $40,000 in cash that belonged to her, before making scurrilous and defamatory allegations about how she obtained the money.'
In the filing, Herman alleges that she and Woods had an 'oral agreement' that meant she could live at the mansion for a total of 11 years, of which she still had five years remaining when the couple called off their romance.
Tiger Woods and Erica Herman started dating in 2017, but haven't been seen together in public since the US Open tennis tournament in August of last year.
Source: usmagazine.com
Marie-Claire; Christian Atsu's wife shares their family photos to mourn the footballer
The partner of Christian Atsu is still grieving over the sudden demise of the footballer who lost his life in the Turkey earthquake disaster.
Marie-Claire Rupio, who has been married to the Ghanaian footballer for about 11 years, has taken to social media to mourn her husband. The German dancer, a singer who is also an author, posted her family photos online.
The photos include a shot of the late winger with their daughter and others which captures Atsu with herself and their two sons.
Marie posted the black and white photos today, 22nd February 2023, on her instastory. All her posts came with no caption which tells how she may be out of words to express the kind of grief she is going through with her family.
Marie-Claire; Christian Atsu's wife shares their family photos to mourn the footballer
Clearing the air, the footballer's wife said "there is a video going around from a woman who pretends to be me. This woman is not me, I have seen it on Ghana Web I ask you to take this video down immediately. This is a very hard and painful few days This is not okay. If you know the site please send this to them. Thank you".
The Black Stars' and Former Chelsea and Newcastle United forward, Christian Atsu, was found dead on Saturday after he went missing following an earthquake that affected his apartment in Türkiye.
His mortal remains arrived at the Kotaka International Airport on Sunday, February 19, 2023.
The footballer's remains were accompanied from Turkey by his family and Ghana's ambassador to Turkey, Francisca Ashietey-Odunton, Ghana's foreign ministry said.
The plane landed at 19:25 GMT in Accra where it was met by relatives, government officials and representatives of the Ghana Football Association.
The winger played 65 times for Ghana's national team and helped his side reach the 2015 Africa Cup of Nations final.